Your Conturve size guide: Getting the right measurements for shapewear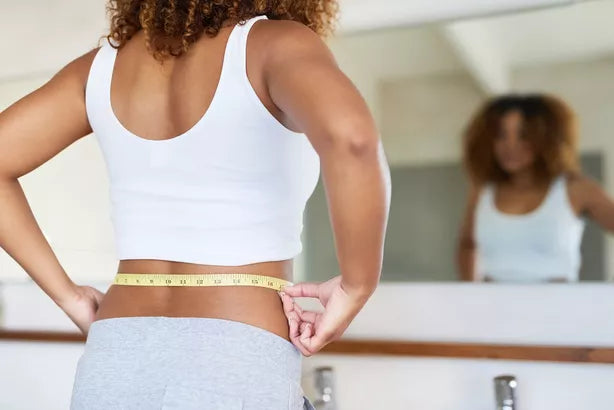 Here at Conturve, we believe that size doesn't matter when it comes to feeling fabulous in your own skin. Tall, short, big, small, and anywhere in between—all bodies are beautiful, and our
shapewear collection
works with your curves to make you feel as fabulous as you look. But size
does
matter when you're choosing your shapewear…
Because getting the wrong size shapewear can not only be majorly uncomfortable or result in wardrobe malfunctions (like underwear rolling up or down), but can also be bad for your body too, with ill-fitting bras putting strain on your back, shoulders and neck—and we all know that feeling of relief when you whip off your bra when you get home because it doesn't feel comfy.
Did you know…?
Approximately 80% of women are wearing the wrong sized bra
Over 50% of women haven't had a bra fitting for several years
It's easy to get fitted for a bra once and then stick to one size, but remember that our bodies change, and that means our breasts too, so regular bra fittings are a must. But don't worry, you don't even need to leave the house to do this—you can do it yourself!
Just follow our easy guide to measuring your hips, waist and bust, and then you're in the perfect position to choose the Conturve shapewear for you.
How to measure your hips
Measuring your hips is straightforward. Stand up straight with your feet together, and wrap a tape measure around your hips and bottom—but always make sure you're wrapping the tape measure around the widest part in order to get an accurate hip measurement.
How to measure your waist
Getting an accurate waist measurement is a tiny bit trickier, as you have to consider your breathing at the same time, but here's how it's done:
Firstly, to find your waist you must find the bottom of your ribs and the top of your hips—the halfway point between them is your waist (this should be slightly above your belly button).
Wrap a tape measure around your waist, and make sure it's pulled tight but isn't digging into your skin, breathe out naturally and take your waist measurement. And always repeat the process and take your waist measurement twice—just to be sure.
How to measure your bra size
It's really important to wear a bra that fits you properly, and while you might think bra fittings are very specialist, taking your own accurate measurements at home is actually very straightforward! You just need to take two measurements:
Your bust size (this is the measurement around the fullest part of your boobs)
Your band size (this is under your bust, around your ribs)
All of the size guides for our Conturve bras tell you the bust size and underbust size, so as long as you have these two measurements, you'll find your perfect fit—guaranteed.
Size guides for your shapewear superstars
We've rounded up some of our bestselling shapewear superheroes and size guides from our Conturve collection, so you can find new favourite fit:
High Waisted Shaping Panty
An absolute shapewear staple, our high-waisted shaping panty works effortlessly with any outfit, whether you're wearing your fave frock for a fancy party or wedding, or you're slipping into your everyday skinny jeans. The soft and seamless material hugs your tummy, smoothing out any lumps and bumps, but is so lightweight you get that barely-there feeling, for maximum confidence.
High Waisted Shaping Shorts
Sometimes bigger is better—and when you want shapewear to support your thighs, tummy and bottom, these high-waisted shaping shorts are the answer. Gently firming and slimming your shape, these shorts give you a svelte silhouette. But just because they're big doesn't mean they'll be more noticeable—the lightweight and breathable fabric keeps you cool and comfortable, and seamless fabric means no VPL, so they're totally invisible underneath your outfit.
24/7 Comfort Non-Wired Shaper Bra
Say goodbye to uncomfortable underwires and rigid cups that make you count down until you can take the bra off… our 24/7 comfort non-wired shaper bra is blissfully soft and light as a feather, while giving you long-lasting bust support and an impeccable fit. It's highly versatile, so you can wear the bra everywhere from the gym to work, and the foam cups sculpt your shape without any wires.
High Waisted Shaping Lace Panty
These are your go-to shapewear saviours when you want maximum sculpting support on your tummy, but want your panties to be fun, flirtatious and feminine too. Reaching all the way up to underneath your bra line, these pretty high-waisted shaping lace panties slim your waist to emphasise those gorgeous hourglass curves, with seamless no-pinch fabric around each leg so your legs are cool and comfortable.
High Waisted Shaping Leggings
A wardrobe staple, our high-waisted shaping leggings offer firm compression with a light touch, making them perfect for both an everyday look and exercising—the double anti-slip silicone waist also prevents any rolling down, making these especially perfect if you're wearing them to work out or practice yoga. The high waist helps to slim and shape your figure, with an additional panel for extra tummy control, giving you soft support and a flattering figure.
Scoop Neck Cami
When you think of shapewear, you might not instantly think of a vest, but our scoop neck cami gives you maximum support in the style of top you might already be wearing underneath your outfits. Contouring to the natural curves of your body, the cami smooths out any lumps and bumps on your tummy and back, preventing the dreaded 'muffin top', while also supporting your bust without flattening it. It's the perfect way to get a layer of secret support, without thinking about the waistline of your underwear.
High Waisted Shaping BoyShort
These are your ultimate shapewear superstars if you're getting your luscious legs out in a pair of shorts, but still want some all-over support underneath your outfit. Our high-waisted shaping boyshort smooth and sculpt your waist, bottom and tummy, but stay hidden beneath your favourite denim cut-offs or a mini dress. Perfect for a season of picnics and summer parties.
To browse the entire shapewear collection, visit the Conturve website today.