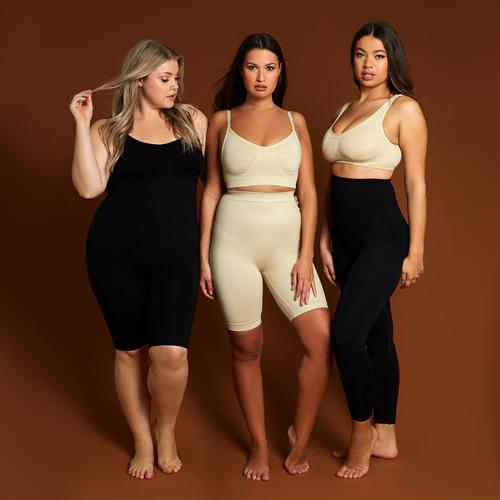 Hey Conturve Ladies! 
We are here to tell you what a piece of art you are, a perfectly sculpted creation. 
Like a lineup of masterpieces, each and every one of you has been blessed with curves that have been perfected over the years, and don't let anyone tell you otherwise!  

Even yourself.  Especially yourself!  

So, on those days when you feel the extra bloat (it's inevitable!) or have been tasked with an 'interesting' bridesmaid dress (with the knowledge of at least a million photos will live on social media for possibly, EVER!) we want to let you goddess' know a little secret, you aren't alone and Conturve can offer a little helping hand. 
Shapewear has gotten a bad rap. Some have compared them to torture devices that squeeze your innards in the name of beauty. Then there's the problem of having to constantly and discreetly adjust bits that are rolling down or sliding up.
What if we told you that the squeezing, rolling, muffin-topping discomfort you've experienced is because the piece of shapewear you've chosen is either the wrong size (easy to fix) or it's the wrong piece for your body type (also an easy fix)?
1) What outcome do you want?
First thing's first: what are you going for? The level of control, aka compression of your shapewear will determine the outcome, so make sure it matches your goals.
No Body Shame in the Conturve Game!

We are all about body positivity, it's not about hiding your curves, it's about accentuating your natural assets.  It's not for one woman, it's for every woman and we all deserve to feel our best.  So, even on those down days when nothing seems to fit and your trusty jeans feel a little snug, reach for High Waisted Shaping Panty for a little boost.  There is a whole range for you to test out and help you feel at your best. 
For the new mums out there, your body truly is a piece of art, you have just created a tiny, precious human being. Enough said. You are amazing. It's OK to not feel your best on two hours of sleep and a rollercoaster of hormones and emotions. But if you do get that moment to escape and step out into the world, Conturve can give you that little bit of added confidence.  That feeling of 'you' again. it's OK, we get it. 

 
Be the Most Confident You...   

Maybe you are just stepping out of your loungewear for the first time in months, maybe you are facing the dreaded hot flushes (as if us women don't deal with enough already!) or maybe you are just feeling a little bit "Bridget Jones".  We can't promise a Mark Darcey will magically appear, but a smooth silhouette is definitely going to make you feel a million dollars! 
 
Makeup - CHECK, Heels - CHECK…

Shapewear - CHECK!  An added accessory to your very own glam squad.  For the days you fancy a little boost, a little more confidence or just because- there are no excuses needed. 

Why not check out the Conturve range and treat yourself to a wardrobe essential.  You are a piece of art, make sure you feel like it!