Why Breast Cancer Awareness Is So Important: A Few Words From Eila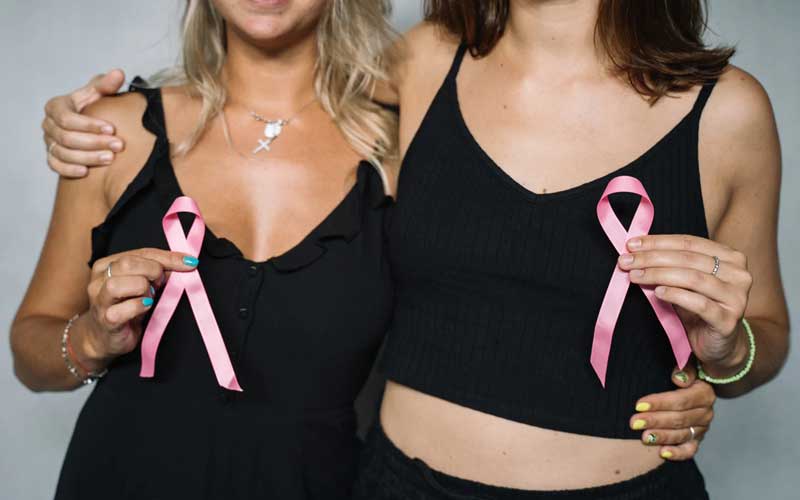 Every October, people across the globe come together to raise awareness of breast cancer and show their support for those affected by the disease. But more so now than ever, it's also about exploring and removing the barriers that some people with breast cancer still face.
Anybody can be affected by breast cancer, and it is one of the most common cancers to be diagnosed with. In fact, studies state that one woman is diagnosed with breast cancer every 10 minutes in the UK. This may be a devastating figure to grapple with but it's worth noting that treatment success rates for breast cancer are pretty optimistic, especially when it is detected early and diagnosed quickly.
And whilst women in the UK are fairly accustomed to hearing about breast cancer awareness, there are still gaps in our knowledge. For instance, did you know that around one in 10 women have reported that they have never checked their breasts?
More alarmingly, studies have found that black women in the UK are disproportionately diagnosed with late stage breast cancer due to the lack of medical representation of women of diverse ethnicities.
With all that in mind, it's time we kept the conversation about breast cancer alive and worked on evolving how we deal with these challenges and gaps in our awareness.
A few words from Eila
This week at Conturve, we've had the privilege of talking to the amazing Eila, founder of charity organisation Mama Melissa Foundation. Eila has dedicated these last eight years to raising awareness of breast cancer in Kenya and the UK, supporting survivors of breast cancer in their recovery and beyond.
As a breast cancer survivor and activist herself, we knew there was nobody better equipped to help us understand the true importance of Breast Cancer Awareness month. Eila has reminded us why we should keep this discussion going, not just for ourselves but also for women who don't have the same resources as we do.
Would you like to introduce yourself and tell us a little bit about you?
Hi, my name is Eila Petty. I was born in Kenya but moved to the UK 27 years ago. I recently completed my Masters in Public health and am soon to start PhD in cancer research. I am also a breast cancer survivor.
At Conturve, we hold self-confidence and body positivity at the heart of what we do. What is something you do that gives you total confidence?
I love to express myself through the clothes I wear, which gives me confidence. I have a motto that if you look good, you feel good.
Now that we've gotten to know you a little bit better, we'd love to know how you came across Conturve and what your first experience with our shapewear was like.
After my breast reconstruction surgery, I found that there weren't many choices for comfortable bras and pants available in high street stores. After a quick search on the Internet, I found Conturve.
My experience with conturve was amazing. They had a good selection of bras to choose from, and I was able to go for an option that suited me in terms of style and comfort.
You started Mama Melissa Foundation a few years back. Can you tell us why you started it, what kind of work you do, and what your overarching mission is?
I started Mama Melissa Foundation in 2004 mainly to support girls education in rural Kenya to achieve secondary school education by paying their school fees. In Kenya, secondary school education is not free, and unfortunately, 39% of girls in rural Kenya do not achieve secondary school education mainly because of poverty.
In 2015, I was diagnosed with breast cancer, which led me to change the Foundation mission to include breast cancer awareness campaigns. This includes helping to breaking the stigma of a breast cancer diagnosis and supporting breast cancer patients by providing post-surgery bras and prostheses.
What do you find most rewarding about the work you do at Mama Melissa Foundation?
Since starting Mama Melissa Foundation 17 years ago, it has been especially amazing to see the young girls we have sponsored through secondary school education going further to gaining university degrees.
This means they have the opportunity to earn an income and obtain the tools to self-advocate for their own life choices. In Africa, there is a saying, 'if you educate a girl, you educate a community'.
Since starting up the foundation, which achievement or milestone has made you feel the proudest?
The biggest achievement for the foundation was in 2018. We raised enough money to build a disabled classroom in one of the schools in rural Kenya. It is estimated only 1 in 6 children with disabilities in Kenya attend school.
Where would you like to see Mama Melissa Foundation going next?
We would like to collaborate and work with other organisations to help us further our mission, especially in supporting breast cancer patients in Kenya.
Studies show that nearly half of women have never properly examined their breasts. Why do you think this is, and what would you say to someone who feels awkward about checking their boobs?
There is an assumption among the population that breast cancer only happens to middle-aged and older women. This is not true; research has shown that more women are diagnosed at a younger age, some under 40 years old.
Unfortunately, these younger women are also diagnosed at later stages, leaving little room for curative treatment. It is important to know your boobs because if you know your breast, you will be able to notice any changes. If it's worrying, talk to a health professional.
Lastly, what final piece of advice would you give to other women regarding their health?
My advice to women is to look after their mental and physical health. Because if you listen to your body, you will notice the changes. I am talking here in terms of breast health.
Being familiar with your own body and noticing any changes in it is one of the best ways to take charge of your health. Women of all ages need to pay attention to their breasts, perform breast self-examinations, and report any unusual changes to their doctors.
What are the signs of breast cancer?
There are lots of different signs of breast cancer, so it's essential to be aware of all of them. The earlier breast cancer is detected, the better the chance of successful treatment.
Common symptoms include:
A lump or swelling in or around the breasts or around the armpit.
A change in size or shape of your breast.
Skin texture changes, such as dimpling or puckering
Redness or inflammation of the breast
Irritation around the nipple, such as a rash, crusting, or discharge
It's super important to stay aware of these signs and perform regular breast exams on yourself. If we sound like a broken record about this, it's because we are trying to!
In the UK, almost half of women do not frequently check their breasts for any changes or symptoms of breast cancer. And we get it; it's scary to think you might wind up finding something. But, whatever your reason for not checking, it's time to nip that in the bud!
This October, make a pact to yourself and the other women in your life to stay on top of your breast exams. Set a reminder on your calendar for every four weeks - so you don't forget! - and be prepared to get super intimate with your boobs. Talk about your breast exams with your girlfriends to normalise the conversation around breast cancer and ensure they don't forget to give themselves frequent check overs.
Finally, the best thing you can do is follow Eila's advice. Know your own body, be familiar with its quirks and, more importantly, its changes. If something doesn't feel right or you feel something that wasn't there before, speak to your GP immediately.
For more advice on how to perform a self-examination on your breasts, check out this handy guide.
If you felt touched by Eila's story and would like to see what you can do to help out, head on over to the Mama Melissa Foundation page to learn more about their mission and get involved!