How to stop your shapewear from rolling down or riding up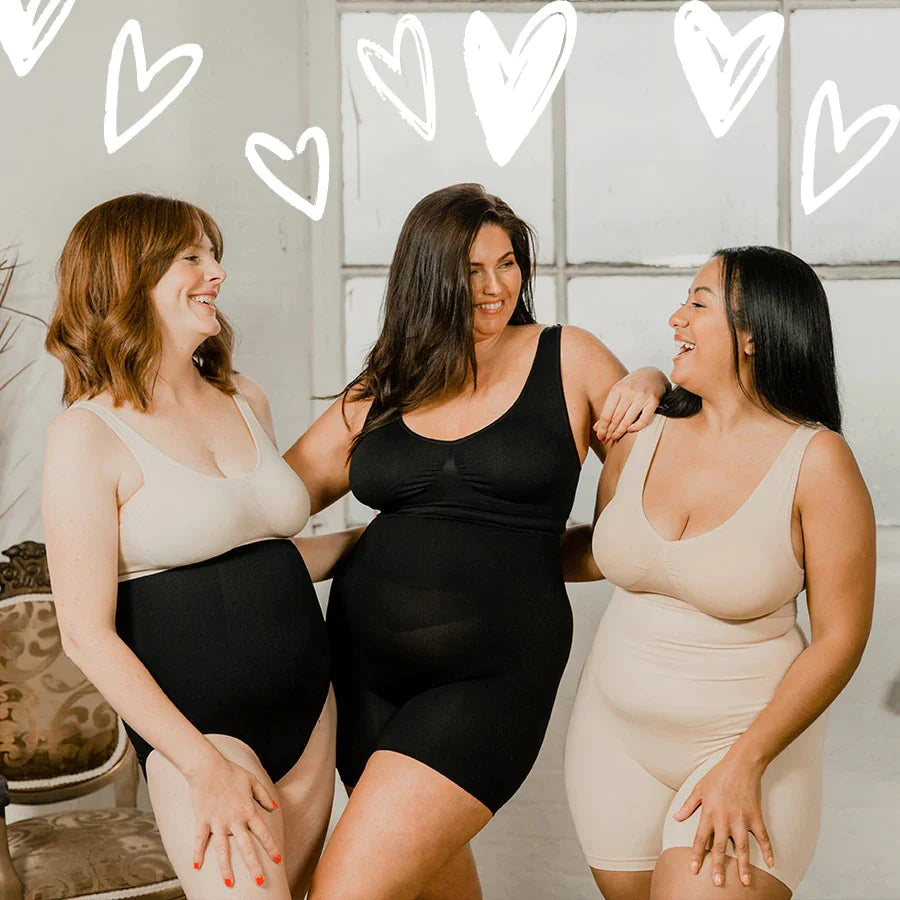 Do you find that your shapewear rolls down or rides up? Do you keep having to pull, adjust and alter your shapewear throughout the day? We at Conturve know that constantly sorting out your shapewear can be frustrating and inconvenient.
Shapewear is your ticket to confidence as you slip into it for any occasion, and you should feel as impressive as you look without having to deal with it rolling down or riding up.
If you feel like this is happening to you, fear not! We have tips to stop it from happening so you can embrace your curves and strut your stuff!
Why does shapewear roll down?
The problem of shapewear rolling down and riding up is common, and there are tips and tricks that you can use to prevent it! Your shapewear may be rolling down or up because you're not wearing the right size or style to fit your body type.
When you opt for high-quality shapewear, you don't need to keep adjusting your underwear as it just stays in place, no matter the occasion, activity, or outfit!
Find your perfect fit
It can be hard to find your perfect shapewear size, especially if you're trying to for the first time, but this is a crucial step that will prevent mishaps!
Often, it can feel necessary to size up to ensure everything is covered, and an oversized fit may seem like the best option. Similarly, a tighter, smaller fit may tempt you as it can seem like it would work to hold everything in place more effectively.
The truth is, shapewear that's too big or too small will be the one to roll down, ride up and cause annoyance as you go about your day.
Avoid any temptations, any ideas about choosing a different size to be normal and pick your actual size for the top level of comfort! Our shapewear puts your curves first, considers your comfort, and will provide shapewear that fits you perfectly!
Put your shapewear on correctly
Often, we rush the getting dressed process as we throw on our outfits and head out the door. Spending time to put your shapewear on correctly can help position it correctly so that it stays all day and keeps you comfortable.
Take your time to pull your shapewear high enough and into a place where it feels secure. Smooth out any creases, rolls or bumps before putting on your clothes, and this will help to keep them in place and stop it from rolling down or riding up.
Choose shapewear with a silicon strip
The non-slip silicone strip is designed to keep your shapewear in place, stop it from rolling down and has the staying power you need!
Shapewear without this will be the one rolling down, riding up but don't worry, our shapewear is specifically designed, so you don't have to worry.
At Conturve, all our shapewear panties and shorts have an anti-slip double silicone band on the inner waistband that guarantees staying power all day. This ensures no rolling down, no riding up and no discomfort but the comfort and confidence you deserve!
Go for shapewear with thin and breathable fabric
Thick fabric may be why you're finding your shapewear uncomfortable and why it's rolling down or riding up. Material that's too thick is less flexible and so is a lot more likely to be the one that's demanding your attention.
Shapewear that's made with a lightweight fabric, is super-soft and comfortable will keep everything in its place and will be so discreet, you'll forget it's there.
Our shapewear is designed to put your comfort first so you can slip your shapewear on and face the day without any rolling down, riding up or awkward alterations throughout the day.
Make sure you wash your shapewear correctly
Shapewear can be delicate as it's made with soft and lightweight fabric, so washing it in the right way is essential so you can keep it in good condition and continue to do its job!
A good option when washing your shapewear is to hand wash it. Use cold or warm water and mild detergent as water too hot could damage the fabric, and bleach could damage the material. Be gentle as you wash it and leave it to air dry, as too much heat may ruin the elasticity of the fabric.
Alternatively, set your washing machine on a gentle cycle and use cold or warm water with mild detergent to avoid damaging the fabric. To protect your shapewear, place them inside a washbag that'll protect it as it spins. Leave to air dry, and there you go, sorted!
Go seamless to be more discreet and more comfortable
Shapewear that's made with thick fabric can feel big and uncomfortable as it sits underneath your clothes. Seamless bras, knickers and shorts will stop shapewear rolling down, riding up and be unnoticeable as they work their magic.
Our shapewear is made with premium seamless technology that will provide you with invisibility and comfort and remove any worries of VPL! For example, our High Waisted Shaping Panty will slip under your dress or trousers, feel comfortable, and you won't even notice it's there.
Your shapewear shouldn't be uncomfortable, and you shouldn't find yourself constantly altering, moving, and tugging on it. Change your shapewear life by striving for what works best for you and doesn't roll down or ride up.
At Conturve, we aim to make you feel fabulous, confident, and comfortable.
Shop our shapewear collection and feel the effects of our super shapewear today!