A Quick Guide to Choosing The Best Shapewear for your Body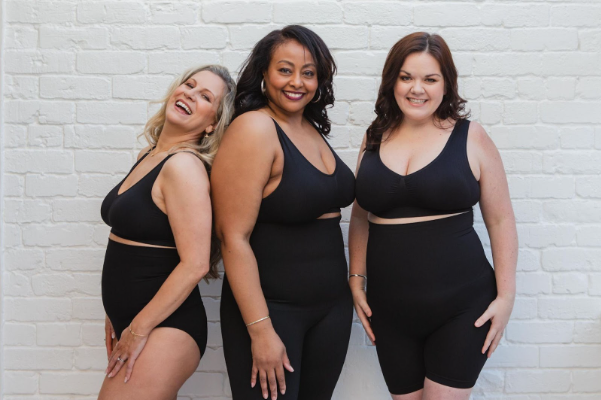 In the past, shapewear has had a bad reputation. It was known to be uncomfortable, too tight, or squeezing the wrong places.
Let me tell you, you've been uncomfortable in your shapewear because you picked the wrong size or style for your body shape. Don't worry; both have easy fixes that can transform your shapewear experience.
In the same way that everyone's body is unique, all shapewear is different and designed to suit every shape. This guide is here to help you find the perfect match next time you search for the best shapewear to make you feel confident and look your absolute best.
What compression do you require?
Let's start with the basics: What level of compression are you looking for? Compression plays a vital role in sculpting and smoothing different areas of your body.
Low compression (smoothing): If you want to even out some regions of your body for more comfortable wear of your clothes consider everyday shapewear options with light control. These pieces can gently smooth out areas like your hips or tummy, giving you the confidence to rock in all your favourite outfits.
Medium compression (enhancing): If you want to enhance your curves, medium compression shapewear is be the way. The breathable, stretchy fabrics move with your body while contouring your shape for a flattering look. Medium control shapewear provides hours of comfort while improving your curves.
High compression (sculpting): If you have a special occasion and want to look your absolute best (while still being able to breathe!), high compression shapewear is the way to go. These pieces are ideal for formal, dressy clothing like wedding dresses, prom gowns, evening gowns, and cocktail dresses, providing a toned and supported look without feeling too constricting. With high-compression shapewear, you can feel secure and comfortable at any event.
No matter the level of control of your shapewear, it should never be uncomfortable or feel like it's squeezing you! If your breathing or movement is restricted, consider sizing up by one or two sizes for a more comfortable and relaxed fit. Remember, shapewear should enhance your confidence and comfort, not hinder it.
Which area are you looking to boost?
Think of shapewear like real estate – location is key! Which body parts do you want to aid or tone under your clothes?
Full body: A full-body shapewear piece like a bodysuit would perfectly support your whole body. It'll give you a sleeker, smoother look. Just double-check that you can easily use the bathroom while wearing it!
Torso: Ditch those uncomfortable tops with a shaping cami that can help you smooth and shape your midsection for a more flattering look.
Bottom: Looking to enhance your butt and thighs? Many options can help you shape and lift your thighs, legs, and buns, from smoothing panties to butt-lifting shorts!
What shapewear would work best for your body?
The type of shapewear that suits you best depends on your body type. Whether you're an apple, rectangle, hourglass, pear, or strawberry, we have the perfect shapewear recommendation.
But first, you'll need to identify your body type:
Pear:
You have a pear-shaped body if you have a smaller bust, narrow shoulders, a defined waist, and fuller hips and thighs with a rounded bottom. To help enhance your curves and provide support, here are some shapewear options that suit your body type.
Strawberry:
You have a strawberry body type if you have broad shoulders, a large bust, narrow hips, and
a slim butt. To achieve a balanced look, you need these shape-enhancing must-haves.
Hourglass:
You have an hourglass body shape if you have a curvy figure with hips and shoulders roughly the same width and a well-defined waist. Consider these shapewear options to enhance your curves and create a smooth silhouette.
Apple:
You likely have an apple body shape if you have a round midsection with a generous bust, narrow shoulders, and hips. You tend to store excess weight around your belly, making finding clothes that fit comfortably difficult. To help define your waistline and enhance your shape, here are some shapewear recommendations that can make you look and feel fabulous.
Rectangle:
If you have a straight torso with a smaller bust, slim hips, and long legs, you have a rectangle body shape. You'll want to add some curves to your silhouette, so consider trying some products to boost all the right places to add curvature.
The best shapewear for YOU
No matter your body type, there are shapewear options that can complement your figure and style. Shapewear is not about changing your body into something unrealistic but embracing your natural curves and enhancing your confidence.
With the right shapewear, you can feel and look incredible in every outfit, no matter where or what you're doing. Don't let discomfort or self-consciousness hold you back from enjoying life to the fullest.