5 of the best smoothie recipes to make you feel fabulous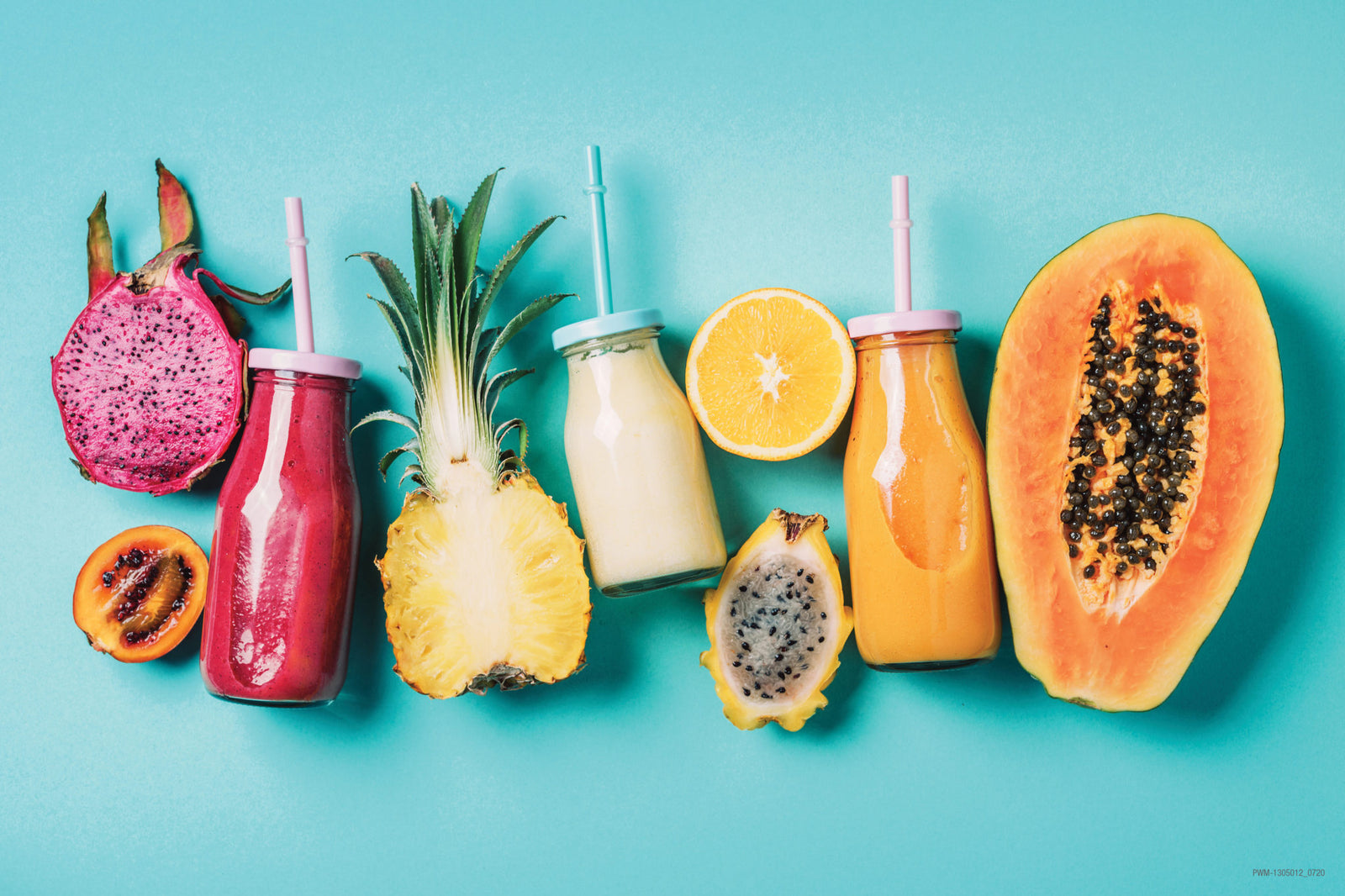 Summer is on the horizon, and the warmer weather (plus the prospect of baring a little more skin in our summer dresses) often inspires us into a little bit of health kick at this time of year. And what better way to start your day than with a smoothie? 
Not only are smoothies thirst-quenching and delicious, they have a wide range of health and beauty benefits—from boosting your energy levels and immune system to improving your complexion.
They're super-easy to make, too. Equipment-wise, you hardly need anything—just a blender and a stainless steel flask or glass jar if you want to take your smoothie on the go (recycling a large jam or passata jar is great if you're transporting your smoothie to work).
Smoothies are a fantastic way to add fibre to your diet, and enjoying the fruit and vegetables raw like this help them to retain all of their goodness, giving you an extra nutritional boost. And looking after our insides helps us feel good, and that's what really makes us shine on the outside.
We've rounded up five of the best smoothie recipes for shaking off the last of winter and embracing the summer ahead. Bring it on!
1. The Breakfast Super Smoothie
Tired of feeling… tired? Not just a scrumptious start to the day, this healthy Breakfast Super Smoothie will also help to keep hunger locked up until lunchtime.
Both oats and bananas are great for giving you that slow-release energy that prevents any energy slumps, and blackberries are a great antioxidant, too.
Ingredients
1 banana
1 tbsp porridge oats
80g frozen blackberries
150ml almond milk
1 tsp honey
1/2 tsp cinnamon
2. The Glow-Getter
We all want glowing skin, and this berry smoothie is rich in the vitamins and minerals that are essential for giving you that enviable radiant complexion.
Berries are an incredible source of antioxidants, and also boost your skin's production of collagen, which helps it look soft, smooth and young. Flaxseeds are also a rich source of omega-3—a fatty acid that helps minimise irritation, redness and inflammation—and Greek yogurt can help maintain your skin's elasticity. It's time to get glowing.
Ingredients
Blueberries
Raspberries
Strawberries
Handful of kale
3 tbsp Greek yogurt
1 tbsp honey
2 tsp flx seeds
250ml water/milk
3. The Immunity Booster
As we leave behind the months of winter coughs and colds, supercharge your immune system with this tropical Immunity Booster smoothie.
Mango is packed full of vitamins C and A, which help to keep your immune system strong and healthy, and spinach packs a powerful antioxidant punch that helps fight off infection. Then you've got turmeric, which is an amazing anti-inflammatory, and black pepper—which might sound a little unusual, but the peppery kick helps your body absorb essential nutrients, such as calcium.
Ingredients
1 mango
Handful of spinach
300ml almond milk
1/2 tsp turmeric
Pinch of black pepper
4. The Ultimate Green Dream
If we're going to go green, we're going to do it properly! This Ultimate Green Dream smoothie is absolutely jam-packed with loads of luscious green fruit and vegetables.
Leafy greens are some of the most nutrient-dense foods on the planet, and blending allows us to break up the often difficult to digest cellular walls and access even more nutrients.
Feeling more savoury than sweet? With just a clove of garlic, a couple of spring onions and a pinch of salt, you can turn with gorgeous green smoothie into a super-soup!
Ingredients
1 apple (peeled and chopped)
2 sticks of celery
1/2 a cucumber
70g spinach or kale
20g watercress
1/2 an avocado
Thumb of ginger
Pinch of parsley
3 tbsp lemon juice
5. The Beach Babe
A smoothie that tastes like a Piña Colada? Yes please! This exotic smoothie not only brings you taste of the tropics, but it's a powerful antioxidant, too—thanks to the often-overlooked 'super fruit', pineapple.
Pineapple has a high antioxidant content, and it also contains bromelain, which helps supress inflammation, aid digestion, and relieve sinus problems. In short, pineapple is a powerhouse, and it tastes like a tropical paradise.
Ingredients
1 banana
1/2 mango
1/2 tin of pineapple
300ml coconut milk
1 tsp honey
1 tsp protein powder (optional)
But remember… anything goes!
Following smoothie recipes is a great way to get going, but don't forget that you can invent your own, too. And you can't go wrong—so long as you're filling your blender with fruit and vegetables, you'll be whizzing up something that's bursting with vitamins and nutrients to help you feel and look like your best self.
A few simple smoothie tips to follow:
Always make fruit and vegetables the 'base' of your smoothie.
Include healthy fats to help nutrient absorption—such as avocado, nut butter, or a little coconut oil.
Add soaked nuts, chia seeds or flaxseeds to help to thicken up smoothies.
Prep in advance by chopping up fruit and portioning it in the freezer—frozen fruit also help keep your smoothies cool for longer.
For more tips and advice on how to look and feel like your best self, visit Conturve today.