Womens Comfortable Everyday Tanks and Camis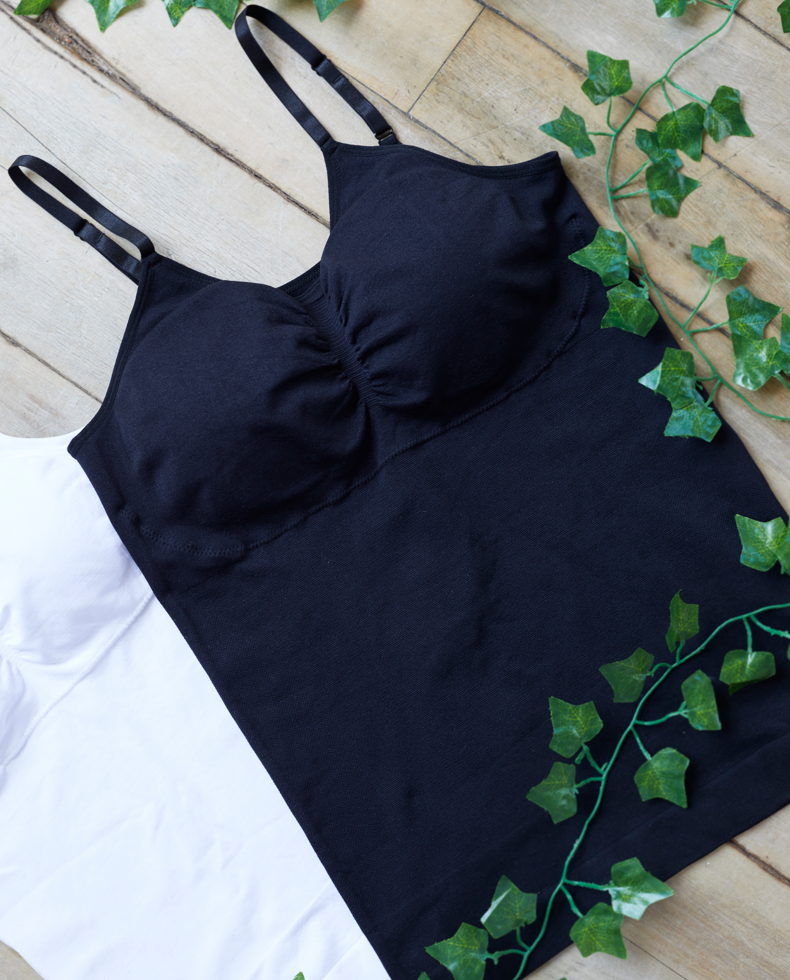 Looking for #camis and #tank tops can be a tedious task, but in reality, they are crucial wardrobe necessities. Regardless of your body size, whether petite or plus-size, it's essential to have some basic options in your collection. However, it's more complex than visiting your usual department store and selecting a few items. While you might find a couple that fit nicely, for most individuals, more is needed.
Over the past few years, tanks and camis have gained significant popularity. Previously limited to exercise or sleepwear, they have become staple clothing. Fortunately, there is a wide range of excellent options available. Here, we present everyday tanks and camis that offer support, comfort, a good fit, and versatile styles. Camis can now be confidently enjoyed and worn by women of all shapes and sizes.
.
This cami is versatile and comfortable, perfect for a more relaxed vibe. It is made from high-quality opaque fabric and offers subtle tummy control and excellent boob support. You can wear this alone on warmer days or layer it with a denim jacket or shirt for a breezier look. Embrace its laid-back style and make it a staple in your everyday wardrobe.
Customer Recommendations:
This product changed how I wear tight dresses! It hides any imperfections and makes my waist look slimmer, giving me the confidence to wear dresses I used to avoid. It's been a game-changer for me! - Grace H.
This tank top is fantastic! It's comfortable, looks great, and stays in place. I will definitely be trying more conturve products. - Tina L.
I can't get over this shaping cami! It keeps everything in place flawlessly. The high-quality material is opaque, making it suitable for wearing alone or layered if you want to wear it underneath. I'm so impressed! - Yasmin K.
This versatile cami offers firm control, smoothing and enhancing your shape in no time. It provides a natural lift to your chest while being ideal for layering or wearing under various outfits like tops, jackets, dresses, or even on its own. Enjoy its versatility and comfort, as it adds a touch of casual elegance to your style.
Customer Recommendations:
Wow, this Cami tank blew me away! It's way better than I anticipated. Not only does it make my tummy look smoother, but it's also super comfy, AND it actually fits my G cups! Can you believe it? I rock this as a standalone top. I couldn't be happier with it! - Emma K.
These camis are like a confidence boost! They make me feel so much better about how I look. I love how they enhance my appearance and give me that extra self-assurance. Thanks to these camis, I'm feeling and looking fabulous! - Lauren S.
Highly satisfied customer! Will shop again! This tank boosts my confidence and smooths "bumps" for better-looking clothes.- Tara F.
Shape-enhancing and comfy, this tank cami with wider straps is ideal as a base layer for office wear or with pants or leggings.
Customer Recomendations:
I'm in love with this tank top! I wore it all day during an unbelievably comfortable seaside vacation. Surprisingly, it kept me cool and didn't make me sweat or feel sticky like I normally do in the heat at the beach. Usually, I don't feel confident wearing just a tank top as outerwear. However, I received so many compliments that It's become a holiday essential. It's a total winner! - Alana H
This cami is a fantastic product! I'm delighted with it. It looks fabulous on its own and offers excellent compression. I LOVE it! - Rubina K
I'm super impressed with this product! The fit is spot on and does a great job smoothing the belly and back area. I absolutely love it! - Delila Y
How to wear them:
To ensure the perfect fit for your tanks and camis, here are some steps to follow:
Start by selecting the correct size: Take accurate measurements of your bust, waist, and hips to determine the appropriate size for your body.
Consider the fabric: Choose tanks and camis made from stretchy materials that provide a comfortable and flexible fit.
Adjust the straps: fix them according to your preference and ensure they are tight enough to achieve the desired fit and comfort level.
Check the length: Determine the tank or cami's desired length based on your style and outfit. Whether you prefer a cropped or longer style, ensure it complements your body shape and outfit choice.
Experiment with layering: Tanks and camis are versatile layering pieces. Wear them under shirts, jackets, or cardigans to create different looks and add depth to your outfit.
Strut your stuff: Wear your tanks and camis confidently once you've found the perfect fit. Embrace your unique style and rock your outfit with pride.
Remember, these steps are just guidelines, and personal preference plays a significant role in finding the best fit for your tanks and camis.
Get ready to rock your tanks and camis in style! We're here to show you some fabulous ways to wear them. Don't forget to connect with us on social media @conturve. Let's get styling!