Wedding guest style trends – and your perfect shapewear pairing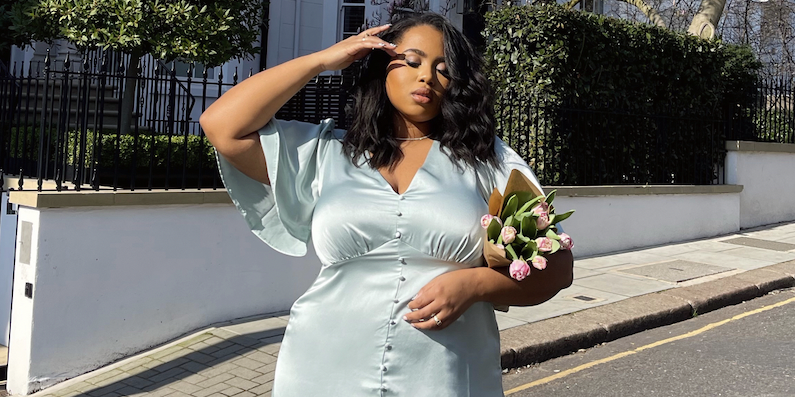 Wedding season is upon us, and as soon as we get that invitation through the door, we ask ourselves that same question:
What am I going to wear?!
There are a few general fashion rules for wedding guest style—don't wear white (that's for the bride only), try to avoid accidentally matching the bridesmaid colour scheme (awkward), and while short skirts and high heels are totally fine, remember that your midnight dance floor dress also usually needs to suit a midday wedding ceremony, too (quite possibly with the happy couple's workmates and elderly relatives in tow!).
Other than that, wedding guest fashion is a personal affair, but when you're going to be on your feet for a long time and in lots of photographs, it's really important that you feel comfortable in what you're wearing. Read on for our wedding guest style inspiration, and the perfect shapewear to pair with any outfit:
Sparkle in sequins
image: brides.com
Whether you go for full-on vintage glamour or a retro 1970s disco vibe, sequins scream 'celebration'. But if you're head-to-toe in a heavy sparkle-laden fabric, you don't want to restrict your dance moves, so why not embrace a side split?
If you're going for this look, opt for a pair of our high-waited shaping boyshorts or our high-waisted shaping panty, which both give you maximum tummy support while keeping your luscious legs free.
Rock a jumpsuit
image: boohoo.com
Hey, nobody says you just have to wear a dress to a wedding! Jumpsuits are a super-cool and stylish way to dress to the nines, but give you maximum coverage if you're feeling like you don't want to bare as much skin, be that because of the temperamental UK climate or because you feel a little more confident when covered up.
A jumpsuit also has the benefit of being able to hide maximum shapewear support, like our high-waisted shaping shorts, which will hug your tummy, bottom and thighs underneath your awesome outfit.
Go chic in shorts
image: simplybe.co.uk
Love the jumpsuit look but want your pins out? You might like to go for a cute playsuit or try a pair of chic shorts. The tailored trend is big this summer, and it's a great way to wear a relaxed style, but smartened up for a more formal occasion. Pair with a matching jacket for maximum chicness.
Satin makes a comeback
image: cosmopolitan.com
You might remember satin taking centre stage in the 90s, whether that was a strappy little mini dress from Etam for your Saturday nights out on the town, or an oversized Tammy shirt for the school disco. But today's satin style is much more subtle and sophisticated—think pastel colours, muted tones, and longer lengths.
And while satin is undeniably elegant, it's also a clingy and 'unforgiving' fabric—if there was ever a fabric that would give away your undergarments, it would be satin! But not with our high-waisted shaping thong…
It's made from super-soft fabric and sits just below the bra line, so you don't need to spare a thought about your waistband showing through, and it smooths out any lumps and bumps for maximum tummy control and zero VPL.
Flower power
image: brides.com
Nailing summer style doesn't mean you have to dare to be different or stand out from the crowd for your bold one-of-a-kind style—sometimes classic and timeless is the perfect look to go for, so if you're going to a traditional wedding, a feminine and floral number could be wear it's at.
Flower power is also a great option if you're going to a more casual or outdoorsy wedding, maybe set in a garden, as the trend for gypsy florals, cotton fabrics and puffy sleeves is super-romantic. You'll look like a floral dream, whether you've dressed it up with heels and jewellery or you're dancing barefoot on the grass late into the night.
Dazzle in bold colours…
image: lightinthebox.com
Did you know that bold colours have been linked to boosting your mood? It's called dopamine dressing, and experts say that wearing bright clothes can actually make you feel brighter too—and if there was ever an occasion to celebrate the good feels, it's a wedding!
But even if you're going bright in your outerwear, you might need to go nude with your underwear, to avoid spoiling your colourful look with a pair of black pants showing through… That's why every item in our Conturve shapewear collection is available in nude, so if you're wearing a thin fabric you can still get maximum support—but it's 100% secret.
…or wear a classic Little Black Dress
image: lulus.com
On the opposite end of the spectrum, who's to say that a little black dress is just for cocktail night?! Black doesn't have to mean bleak—the classic LBD (little black dress) can look chic and effortlessly sophisticated, so if wearing black is your style or safety net, then you can still wear it as a wedding guest.
Suit up!
image: riverisland.co.uk
Ladies—suits don't need to just be for the groomsmen! Suits are sharp, stylish and super-flattering, and bringing together traditional masculine tailoring with a typically feminine colour like coral is a winning combination.
A suit is usually a little looser than a dress too, so it's a great option if you want to wear maximum shapewear underneath. Our scoop neck cami offers medium compression, hugging your curves and smoothing out your tummy and back, with shaped cups for natural breast support without any waistband worries—perfect when you want another slice of wedding cake!
To browse Conturve's entire shapewear collection, visit the website today.