The shapewear facts you need to know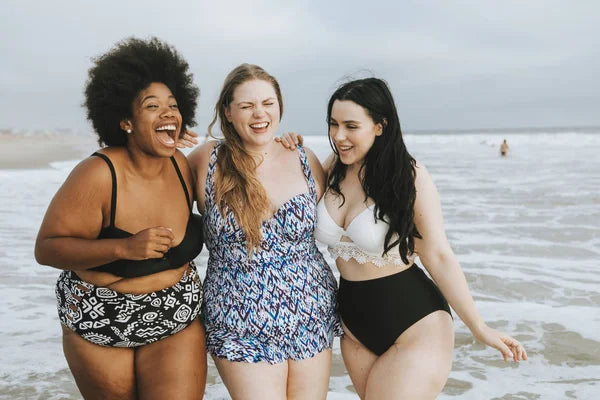 There are a lot of misconceptions about shapewear—usually that the term translates to an enormous pair of knickers so tight that you can only nibble on salad leaves during dinner because it's impossible to fit any proper food in! Fortunately that common shapewear story is just that, a story…
The reality is very different, and here at Conturve our shapewear is nothing to do with diets and deprivation, and is all about celebrating women's bodies just as they are. Here we answer some of your most frequently asked shapewear questions:
Q: What is shapewear?
Answer: Conturve shapewear is a collection of figure-enhancing underwear and clothes that have been expertly designed to empower women of all shapes and sizes to feel confident and comfortable in their beautiful bodies.
We understand that can be easy to feel a little uncomfortable or self-conscious about your gorgeous wobbly bits, which is why our functional and form-fitting shapewear supports you by helping to smooth out and lumps and bumps and enhance your fine figure, so you look and feel like your best self.
Q: Is shapewear body positive?
Answer: Absolutely! There might be brands that market shapewear as something to make you look thin, but we're body positive at Conturve. We don't believe that there's one 'ideal body type', and we don't want any woman to ever feel like how they look and feel is related to their measurements or numbers on a set of scales…
It's why our shapewear collection is designed to work with your body, not against it. So you won't find our shaping panties or shaping shorts sucking you in like a corset from the 1900s—instead you'll get medium compression to give you a slimmer silhouette, but in a way that looks and feels completely natural.
Q: Is shapewear comfortable?
Answer: Yup! All of our shapewear is made with lightweight and breathable material that gently moulds to the contours of your body and stays in place—it's not too tight, it doesn't nip or pinch, and the silicone strips prevent it from bunching up or rolling down.
But there is one thing you need to do to get that barely-there feeling, and that's find your perfect size. It can be tempting to go for shapewear that's too small (because you want something tight to hold you in) or shapewear that's too big (because you feel a bit self-conscious and prefer looser items), but finding your fit is key.
So whether you're looking for a scoop neck cami to go underneath your work shirt or a high-waisted shaping thong to wear underneath a slinky evening dress, check out our easy-to-follow guide to finding your perfect shapewear sizes.
Q: Can you wear shapewear after having a baby?
Answer: 100% yes. We believe that mums are superheroes, and it's our mission to help busy mums out there to feel incredible in their own skin.
Your body goes through a lot during pregnancy, and lots of women choose our comfortable shapewear following labour or a C-section, as well as during the years of running around after a troublesome toddler! Our shapewear is designed for women with busy lifestyles—you don't want to be worrying about your underwear, so once you've slipped on our shapewear, you'll barely know it's there.
Q: What age group wears shapewear?
Answer: There's no minimum or maximum age for shapewear, and we want you to feel like your best self, whatever your age. But we understand that there's pressure… We live in a world where 'youth culture' is often celebrated, where we're told that teenagers are making millions and that 'it's rude to ask a woman her age', as though it's shameful to be past your early twenties.
We don't buy into that at Conturve—growing older is a privilege, and we want to celebrate the beauty of bodies whatever stage of life you're at, and whatever they've been through! It's time youth culture was kicked to the kerb, and we celebrated being young, being old, and every age in between!
Q: Is shapewear expensive?
Answer: We've designed our Conturve collection with real women in mind, and that goes for our price point, too—so you can say goodbye to designer price tags, and hello to products that are affordable, with no compromise on quality.
What's more, all of our pieces are versatile and long-lasting, meaning they work with multiple outfits and for multiple occasions, making Conturve shapewear not just a wardrobe staple, but a wardrobe investment.
If you're looking for shapewear to enhance your gorgeous curves, browse the full Conturve collection today.