Our Top Halloween Outfit Ideas For Curvy Queens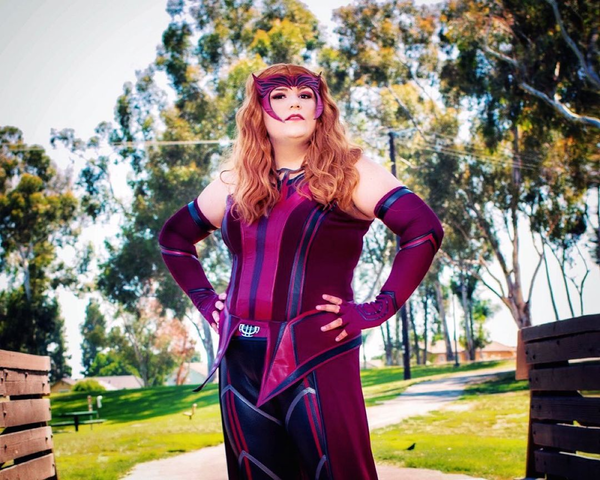 Halloween is one of the most celebrated festive events of the year. Aside from Christmas, it's probably the time of year that involves the most decoration, outfit planning, and general coordination. Plus, Halloween offers something for everybody and every family. Whether you're trick or treating with the kids, pumpkin-carving at home, or out for a frightening night on the town, you're guaranteed to get your thrill this Halloween!
But despite Halloween being an all-inclusive event, finding stylish and practical plus size Halloween costumes can sometimes feel like an impossible task. There are several factors as to why shopping for fancy dress as a curvy girl is incredibly difficult. Many Halloween shops do not hold inclusive sizing for women's fancy dress, and even if they do, many women's costumes can be very skimpy.
If you struggle with feeling confident in your curves all the time, baring a lot of skin might leave you feeling a bit insecure, which could definitely put a damper on your evening. And, whilst super sexy outfits work great for a party with other adults, you might get a bit chilly if you're running door to door with your little ones in just a strip of fabric!
So, if you're looking for some cute plus size Halloween costume ideas that you can feel comfy in both trick or treating with the kids or out with your friends, you're in the right place. Here's our list of the top five most practical and gorgeous Halloween outfits for all our curvy queens out there!
Cruella De Vil
Okay, we know. She is a villain, but sometimes it's fun to be the bad guy! Plus, it helps when they look as fab as Cruella De Vil.
The great thing about this Halloween costume idea is that it is super versatile. Find yourself any stunning gown, some matching gloves, maybe a fur coat, and of course, a cigarette holder and you'll look like the evil fashionista herself. To finish off this seductive, villainous look, just slip on a pair of your favourite shaping underwear and feel supported and smoothed all night long!
The only part of this costume that is important to the integrity of the character is the hair. But, you can easily find Cruella wigs from tons of Halloween stores. Or, if you're feeling crafty, you could even DIY your do with some white hair spray and a black wig!
Scarlet Witch
Image from @thebigpotatoqueen
Loved Wandavision? Let your true witchy ways free this Halloween with a Scarlet Witch costume. You can easily recreate this outfit at home with a cute little red bodysuit and cape. Or, for more coverage, find a sleek red dress to go under your cloak.
For the finishing touches, DIY yourself her red tiara with a little bit of cardboard, paint, glue, and a headband. Plus, if you're feeling a little bit chilly, you can always put on some sleek, shaping tights for an extra layer and figure-enhancing support!
David Bowie
Simple, quick, and super cool. This David Bowie outfit choice is the ultimate last-minute, 'oh my gosh, I forgot we had plans', Halloween costume. You don't need to go all out with this fancy dress option (though that would also look very cool!); you mainly just need to master the signature Bowie lightning makeup look!
From here, you can style your outfit however you feel best. Bowie wore a lot of fabulous outfits throughout his career, but you can easily emulate his funky, colourful style with any clothing found in your wardrobe. A simple red dress can be easily paired with some heeled boots for a Bowie-esque feel.
Velma
Looking for something comfy and cosy to keep you warm this Halloween? Dress up as Velma Dinkley, everybody's favourite nerd. Pile together a red skirt, an orange jumper, and of course, Velma' signature thick-rimmed glasses, and voilà!
If you're out and about with the kids, don't forget to layer up with a shaping cami. Not only will it keep you toasty, but it will enhance your silhouette to perfection. Jinkies!
Ursula
Now, this one is a little bit high maintenance, particularly due to all the painting involved. But, if you've been invited to a fun party and want to pull out all the stops for your costume, then Ursula is the one for you!
Recreate the Ursula look with some purple face paint and a sleek, figure-flattering black dress. From here, you can opt to leave your look as it is or vamp it up even further with white hairspray and makeshift tentacles. The choice is yours!
If you want a bit of extra curve definition for your seductive outfit, grab yourself some shapewear garments to give you that added boost of body confidence that is so pivotal to the confident, full-figured sea villain we know and love. Hey, she might have been a bit evil, but she was also a body positivity icon!
There we have it. Our top five picks for glammest plus size Halloween outfit ideas! We hope you found the inspiration you needed to get your spooky on.
Want to hear more about how shapewear can help you flaunt your curves and feel fabulous? Check out our ultimate curvy girl guide to shapewear for our tips and tricks on finding the best body shaper for your body!