How to Pick the Perfect Shapewear for Your Wedding Dress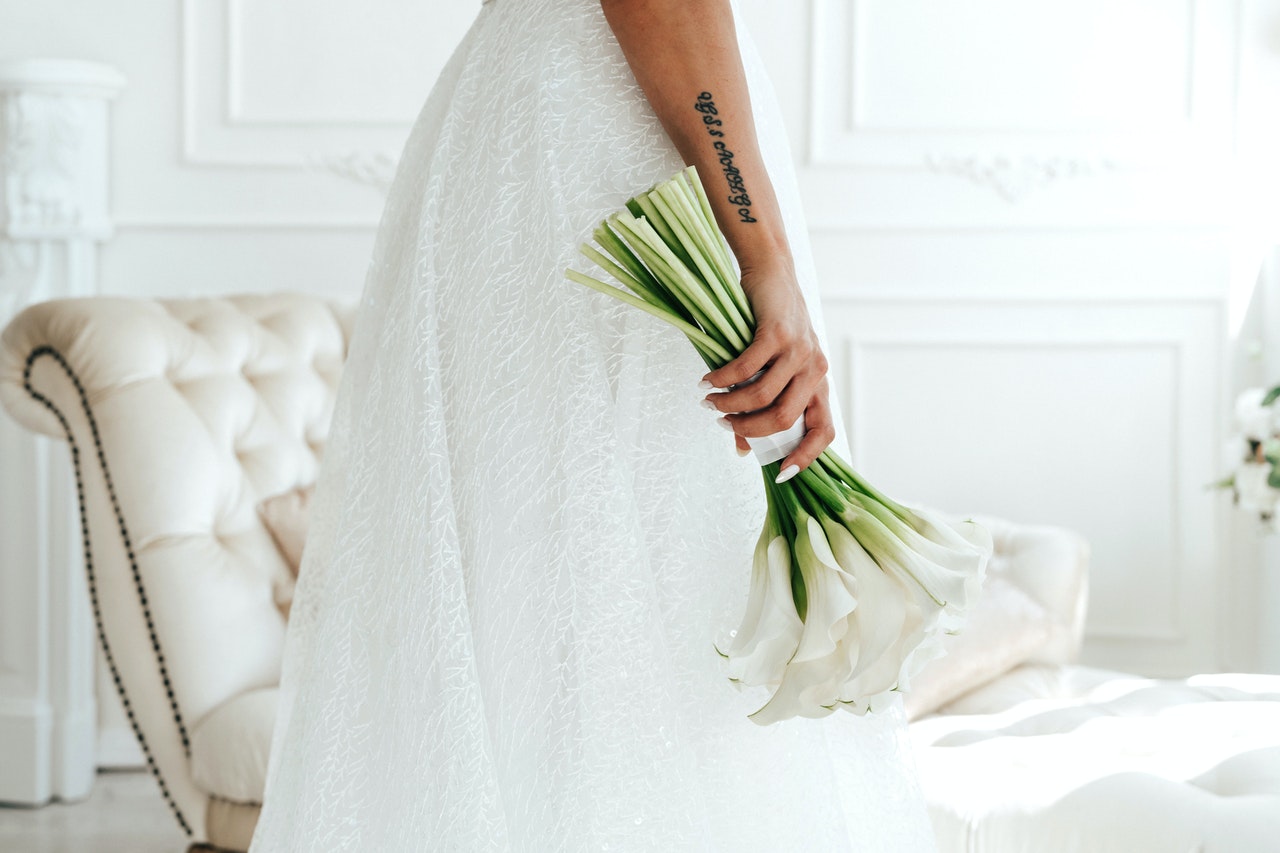 Flowers? Check. Venue? Check. Dress? Check. What about your bridal shapewear? Okay, we know what you might be thinking, nobody told me I would have to wear spandex pants on my wedding day?!
Don't worry, you don't have to wear anything you don't want to. It is your day, after all. But there are many brides who do opt to wear body shapers under their dress for a whole host of reasons. 
Wearing shapewear under your dress can give you:
A seamless finish -

Shaping underwear leaves you with a sleeker, smoother finish under your dress than normal underwear, which is ideal if your gown is close-fitting on your figure.

Long-lasting support

-  Weddings last all day, so having a comfy and supportive piece of control wear under your dress can help you stay perky and give your posture the lift it needs to keep you going.

And, most importantly, a major boost of confidence

- Smoothing undergarments enhance your curves and accentuate your waistline to help you feel totally body confident in your dress (read

here

 

for more body-positive perks of wearing shapewear!).
Plus, with shapewear from Conturve, don't have to worry about feeling uncomfortable or stuffy on your special day. We've got dozens of comfortable and flattering fits designed to make you feel and look incredible! 
That said, finding the right shaping garment to pair with your dress is important. Just as there are many wedding dress styles to choose from, there is a vast range of shaping undergarment styles as well. 
So, to help you find your perfect match, we've put together a little guide on how you can pick the right wedding shapewear for you! 
What shapewear works best under a wedding dress?
When it comes to bridal shapewear, there are hundreds of options. From simple panties to full body control wear to lace-up corsets. The options are pretty much endless. 
Finding the right shapewear to wear under your wedding dress entirely depends on the style of the gown you've chosen and what it is you want to get out of wearing shapewear. Is it to smooth out your figure? To give you some extra support? Or, do you just want to feel a bit more confident on your special day?
Whatever the reason, identifying your needs is the key to finding out which body shaper is right for you!
How to pick the right wedding shapewear for you
Perfect shapewear for a backless wedding dress
The backless dress is a super popular wedding dress style. And for good reason; everybody looks fabulous in them!
However, if you're looking for a shaping undergarment to go underneath your low-back wedding dress, you'll need to opt for a backless shapewear fit. We'd recommend a pair of shaping boyshorts.
These cute little boy shorts are probably the best wedding shapewear option of all time, as they're incredibly versatile and easy to wear under most cuts and styles. 
They're effective enough to provide you with the lasting support and lift you want for your wedding day, but they still finish low enough to not get in the way of your gown - perfect if you require backless shapewear for your wedding dress!
Perfect shapewear for a high neck dress
If you've gone for a dress that offers full coverage over your neck and back, you're probably searching for the perfect bra to pair it with. 
You don't want anything that is going to create awkward lines across your bust, and you certainly don't want to deal with the dreaded back bulge on your wedding day! Try something simple and supportive, like our smoothing non-wired bra. 
You'll get the bust support and natural lift you need, whilst the smoothing material can help even out your back area. 
Not to mention, our non-wired bras are comfy enough to be worn all day without any pinching, prodding, or digging in. The only downside to these shaping bras is that you'll end up wanting to ditch the wired bra for good!
Perfect shapewear for plus sized beauties
If you're a curvy gal, feeling body confident is not always straightforward. As women, we're bombarded with images of the "ideal" body, which can really take a toll on how we perceive and accept our figures. 
At Conturve, our goal is to help women of all ages, sizes, and body types realise their true beauty so they can live life more empowered. We believe shapewear plays a big part in helping women achieve this state of body positivity and self-love.
Each of our shaping undergarment fits is designed to help you feel more confident in your curves by accentuating and flattering your gorgeous figure. So, if you're looking for the best wedding shapewear for plus size body shapes, we'd recommend the shaping shorts. 
High waisted with a longer leg, this short offers fuller coverage that works perfectly with a whole range of different wedding gowns. Plus, they are ideal for lifting your behind whilst cinching and smoothing your waistline, giving you the perfect hourglass shape!
For more advice on how best to choose your plus size shapewear fit, check out our Ultimate Curvy Girl Guide to Shapewear!
Perfect shapewear a power suit
Stats show that brides nowadays are no longer clinging to traditional wedding cuts and styles. In fact, there are lots of women opting for a bridal look that better adheres to their aesthetic and comfort needs, such as a suit. 
When it comes to bridal shapewear, many fits are designed to go underneath gowns, highlighting the waistline for an optimal final look. But when you're wearing a suit, a streamlined hourglass waistline is not necessarily your main goal. 
Instead, general smoothing and shaping for a sleek, seamless finish are ideal for polishing off your formal look. Pop a form-fitting shaping cami under your shirt to help even out any underwear lines whilst offering some general control over your waistline and bust. 
And, if you're worried about the extra layer making you too hot, don't. Our shapewear camis are made with ultra-breathable stretch fabric so you can look and feel cool all day long!
There we have it—our guide to finding the perfect bridal shapewear for you. We hope you find something that makes you feel as beautiful as you'll look. Whatever you end up in, we're sure you'll look fab enough to guarantee there's not a dry eye in the place!
And, if the wedding planning has left you and your spouse-to-be feeling a bit stressed, make sure you create plenty of time to practice self-care. Here are some of our tried, tested, and
loved
home spa ideas
for pampering yourself without breaking the bank!