How Can I Make Myself Look Slimmer In A Dress?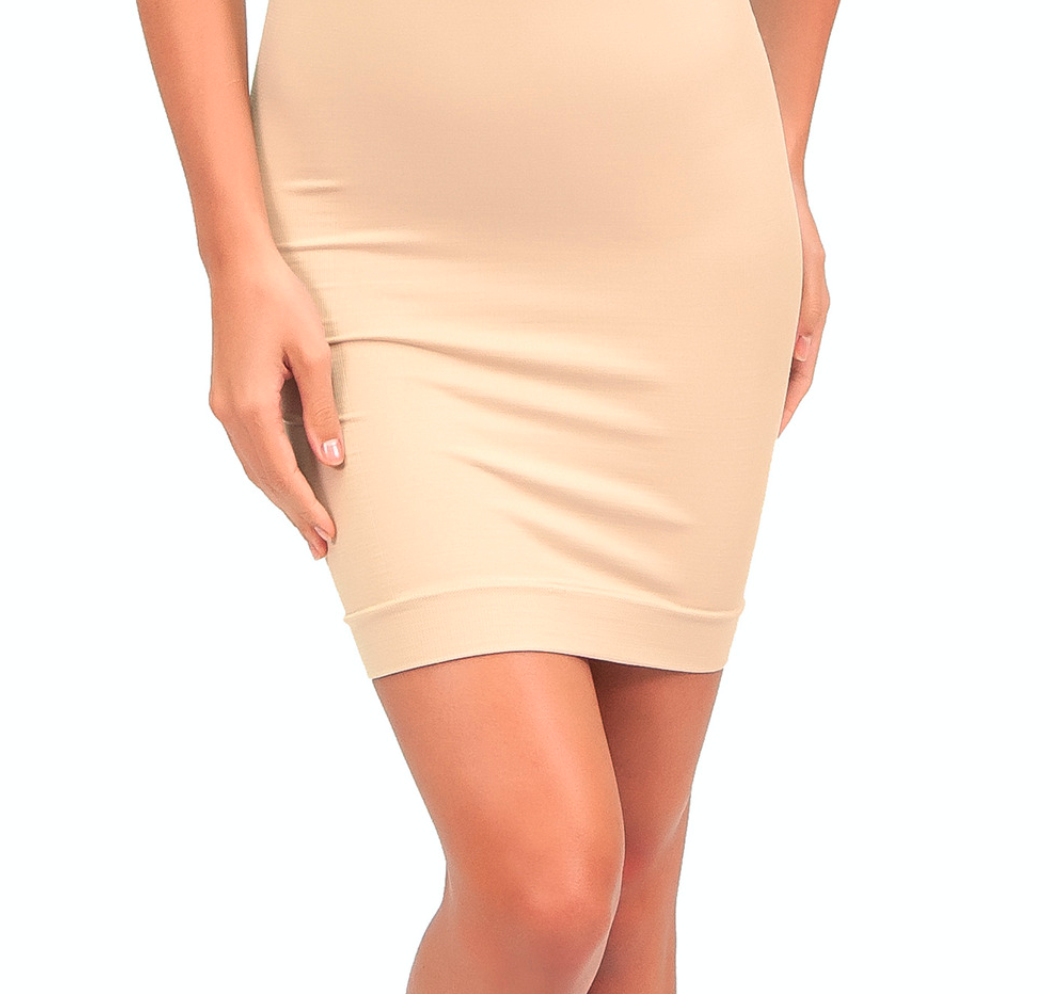 With the party season just around the corner, a lot of you have been in touch asking us what shapewear works best and can be worn underneath tight dresses.
"So how do you make yourself look slimmer in a dress?" 
Let's be honest with ourselves, to look slimmer you need to lose weight and tone up your body. However, this is not always possible to do with our busy lives! If you do not have time to hit the gym or wait for that diet to show results, then a quick fix is to wear shapewear. 
Shapewear is not designed to make you lose weight instead it helps to make you look smoother. Smoother curves no matter what size or weight you are will always look better than lumps and bumps. 
The trick to smoother curves is to blend and control, you do this with shapewear and your underwear which needs to be firm, smooth and tapers away where it finishes to help with contouring your shape. You do not want any harsh lines or obvious seams and no uncomfortable areas. 
Shapewear styles that covers as much of your body as possible is perfect and will help, just remember to ensure that the shapewear style you choose is invisible under your dress. The aim is to create a smooth silhouette so that your dress will hang nicely without clinging to any parts of your body or bunching up where it shouldn't. 
If you are wearing shapewear under a very tight fighting dress then don't wear knickers as well, if you do then this will create visible panty lines that you do not want. 
Steer clear of shapewear with a built in bra unless your body is well proportioned as finding the right size for your bust area and the rest of your body can be difficult. Shapewear styles like the underbust bodysuit shaper below are perfect for this:
We recommend that you wear your own bra or you can choose a shapewear bra for a better fit and lift. 
To help create smoother lines and contour your curves, tuck your shapewear in where possible. If you're wearing a high waisted shapewear style and a bra then tuck the top of the shapewear underneath your bra. If you are wearing a waist cincher or shapewear top or vest then tuck the bottom of it or hem into your underwear. 
If you already have different styles of shapewear but you find that it is causing lumps or bumps underneath your dress then you can add some layering. To do this, add a long vest or slip which will provide extra coverage and smoothness. 
Best Shapewear Styles for Looking Smoother and Thinner In a Dress
Underbust Bodysuit Shaper With Adjustable Straps If you need a bodysuit that does everything then this is the best style for you. This style of shapewear provides extra compression and bonding which provides extra shaping control. This bodysuit is seamless and made from a breathable material with tapered edges which makes it comfortable to wear all day. The back of the shapewear is high which covers your bra strap and the best feature is the pockets for your bottom area which helps to lift, slim and shape your bum, making it look curved and contoured in a tight dress. 
Seamless Slip Corset If you prefer a skirt instead of shorts then you can choose this seamless slip instead to help with shaping under a dress. This slip has bonding which gives firm compression for slimming control and really helps with creating a smooth contour with no lines under your clothes. The seamless material has no seams and will not chafe the skin or create any lines under your clothes. The top of this shapewear goes to just under the bust so you can wear it with your own bra. If you are wearing a strapless dress, then this shapewear is perfect as it has no shoulder straps. This slip will help to slim and works by sucking everything in from your mid thighs to just under your bust. For extra smooth contouring you can tuck the top of this shapewear under your bra. This slip with also help by cinching your waist and will provide strong tummy control.
High Waisted Shaper Thong Corset You should choose this shapewear style if you are wearing a short skirt which will prevent your shapewear for showing under the hem of your dress, which is never a good look on a night out. This shapewear contours your waist, tummy, core, hips and bottom and is made from a seamless material hat will not create any lines under your dress or skirt. The style has excellent bottom shaping and will not create a visible panty line, but will provide superb tummy control without digging into your legs. You will also be able to wear your own bra with this shapewear style.
High Waisted Shorts & Panty If all else fails then you can try the high waisted shaper shorts and panty which are made from seamless material and provide firm compression but are still comfortable to wear all day or night. Each style is perfect to wear with a strapless dress but choose the panty style for short dresses or skirts. The shorts will help to shape your hips and thighs and come with pockets that hold and lift your bottom. Both shapewear will provide brilliant tummy control while also helping to suck in your waist. Both styles have double grip strips on the top hem which prevents them from slipping down or rolling up. Of all the shapewear styles on the market, the high waisted shorts and panties are a must have in any woman's wardrobe. 
Want to grab your stunning shapewear fits for less? Snap up major deals on all our shaping garments with the Conturve Black Friday Sale. From body-hugging camis to peach-enhancing leggings, find your new favourite fit with our killer Black Friday deals!