Everything you need to know about period underwear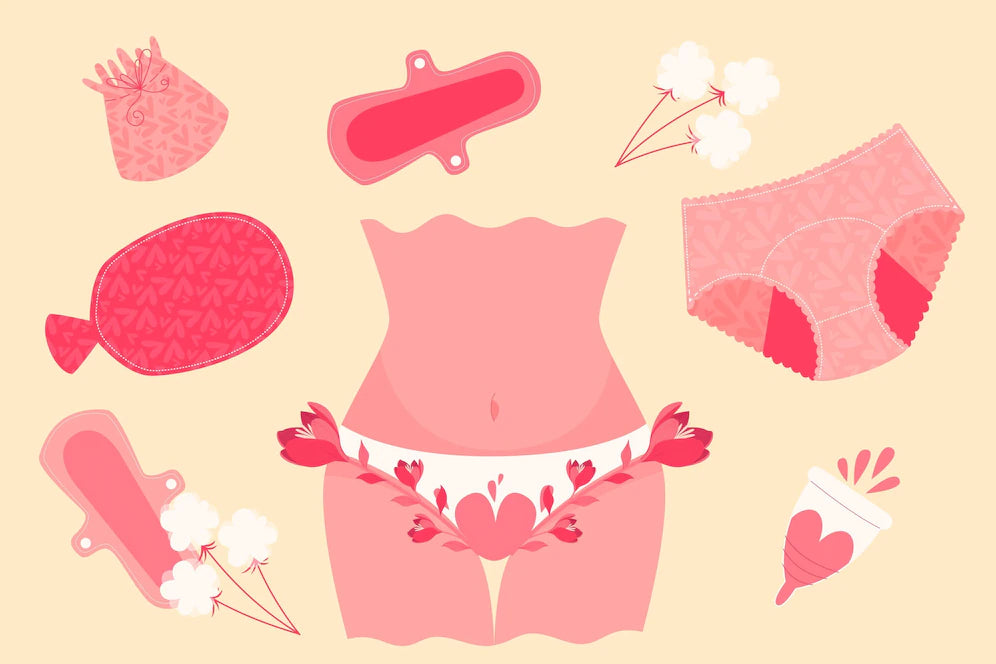 The term "period panties" may be new to you and if so, you could be about to stumble across a life-changing addition to your time of the month.
Periods are not pleasant, and it is never an enjoyable time when your hormones are whizzing around as you go on an emotional roller coaster, not to mention the other inconveniences too.
These undies are an extension of helping women feel more comfortable and confident during their period.
Here is everything you need to know about period underwear:
The evolution of period products
It's safe to say that whilst periods have always been around, the topic of them has not always been discussed as freely as it is now. There is little documentation recorded in history about periods, suggesting the lack of understanding and acceptance of the menstrual cycle.
Thankfully, as time as moved on and society has progressed tampons went on the market in the 1940s with pads following in the late 1960s.
Clearly, there hasn't been much development regarding period products which is why period underwear may change your time of the month for good and show you the comfort and ease you've been missing.
How do period undies work?
When hearing "period panties" the image of a large, bulky pair of knickers springs to mind and not the thin undies that are actually the complete opposite. There are different brands that offer slightly different styles and designs of period underwear so you can take your time to choose what's best for you.
The leakproof panties can absorb as much liquid as 12 tampons and without the look and feel of a bulky pad can make sure you can get on with your day.  Of course, everyone's flow is different but don't worry, your new period undies have you covered!
For the period protection you need, period underwear is made with cotton, nylon, and elastane so you feel comfortable and always supported. There are three layers of the period pant, the moisture-wicking layer, the absorbent layer and the moisture-impermeable layer.

Each layer serves a different purpose and gives you that leak-proof confidence that's a vital part of period underwear. The three-layer technology is a fool-proof system that works on ensuring your comfort and preventing any leaks!
The top layer wicks away moisture quickly as well as stops odours and fights any bacteria. The middle layer absorbs the fluid and stores it away so you don't have to worry about anything you shouldn't. Finally, the third and bottom layer gives you that extra bit of leak-proof protection, leaving you always feeling secure and confident!
What Absorbency is right for me? 
Flow
What's it for?
Benefits
Moisture Wicking only
Sweaty workouts, hot days, everyday use
Gives you that boost of confidence and can replace a panty liner, or a sweat patch
Super Light

5ml (1 tampon, 1 teaspoon)

Infrequent drips or discharge
It feels dry and fresh
Light-Moderate

10ml (2 tampons, 2 teaspoons)

Light to heavy period flow, bladder leaks or discharge
It feels dry, fresh and gives you extra support
Moderate-Heavy

15ml (2-3 tampons, 3 teaspoons)

Medium-heavy period days, bladder leaks
Secure and comfortable
Heavy-Overnight

20ml (3-4 tampons, 4 teaspoons)

Heavy periods, bladder leaks and leak-proof to protect clothes and sheets
Secure, comfortable, and leak-proof
Maxi

50ml (10 tampons, 10 teaspoons)

Very heavy period flow, frequent bladder leaks
Gives you the security, confidence and comfort you need
Ultra-Protection

250ml

Moderate to heavy incontinence
Reliable, secure, comfortable and dry.
The different styles of period underwear
When shopping for tampons and pads, you pick the one most suited to you as they come in different styles just like period underwear. By taking the time to look at the descriptions, the benefits of the specific pair of period panties that you think would suit you and your body the best, your comfort can be put first.
Not everyone has the same flow of blood or comfort levels and so it's important to shop for period underwear with yourself in mind and what would feel the best for you. Some people experience a heavy flow and would need a different style to someone who doesn't and would have a different product in mind.
If you suffer with a heavy flow, it may be worth using period underwear as a back-up or an add on to another period product like a tampon, as you may need the extra support despite the high quality leak proof underwear.
How long can you wear period underwear?
You'll be pleased to know that period underwear is so comfortable that some people opt to always wear theirs as a replacement for their other underwear! During your time of the month, you can wear your period undies for the whole day as some can even be worn for up to 24 hours.
Comfort is key and so do what feels the best for you, but know that your period underwear will support you for as long as you need!
How do you wash period underwear?
Period underwear is pretty low maintenance and should be washed on a cold-water cycle, with mild detergent and job done! Not all of them are stain-proof so it may be a good idea to give them a rinse before they go into the washing machine!
Choose the right absorbency for you
Depending on your flow, you may be after certain level of absorbency to ensure you're choosing the right period panties for you. The absorbency level ranges from 1-3tsp of blood to 20tsp and so you could find yourself needing leak proof, super leak proof or you may need reusable pads that you can wear overnight.
Of course, it's what works for you so take notice of the descriptions next to the product and choose which one you will feel the best for you.
How period panties can increase your confidence
Here at Conturve, we think confidence is what you deserve to always feel, and period underwear can give you this boost! Throw away your old period knickers that you're not bothered about ruining and get your new cute, comfortable period underwear!
The protection that period underwear can offer you can help avoid those awkward situations like having stained bed sheets or clothes. Dealing with your period is bad enough but the anxious situations that can arise from it can be helped by period underwear that can help offer protection and a level of comfort and support.
Furthermore, you can wear different styles or types of period underwear throughout your time of the month and their unique style can help make things more comfortable and increase your confidence.
For example, at the end of your period you may still need some form of period product so period pants for a lighter flow can help!
How period underwear can help to save your money
The thought of spending money on pads and tampons is bad enough as it's not exactly something enjoyable so shopping for pleasure goes right out of the window!
Feminine hygiene products aren't cheap and period poverty is a real issue that many people struggle with. With new creations like period underwear, this could change and leave people with more freedom and higher levels of comfort that they deserve.
How period underwear can help the planet
Feminine hygiene products can create a lot of waste, especially as you may need to buy multiple packs or boxes throughout your time of the month. It's important to improve sustainability and this is a good solution to do your bit to reduce waste!
Why period underwear is empowering
The introduction of a new period product has been a long time coming but never late than never! By creating choice and allowing people to make their own decisions about their body, the topic of periods is open for discussion which reduces the stigma that often surrounds periods.
Periods shouldn't be a taboo subject that shouldn't be mentioned. If you feel you want to try a more comfortable period product that could benefit your time of the month, go for it, and feel your best even on your period!
Feel empowered and shop at Conturve today!