Can wearing bright colours really make you feel more confident?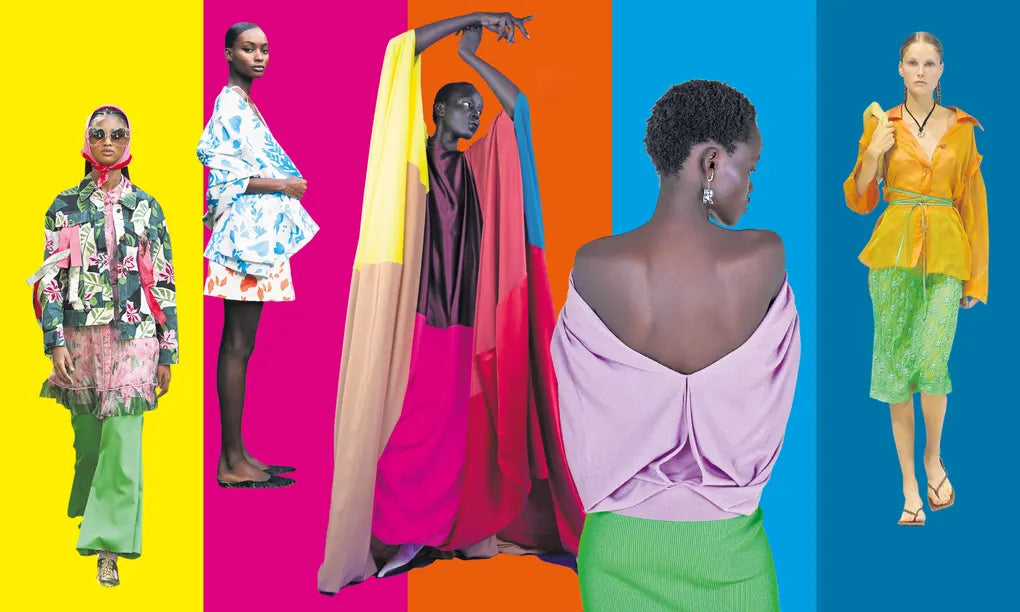 We love neutral colours—the little black dress, a simple white shirt, those trusty navy skinny jeans. There's nothing wrong with a classic when it comes to fashion, but what if embracing bolder colours could not only brighten our wardrobes, but brighten our moods, too?
A new fashion trend is sweeping the nation, and it's called 'dopamine dressing'. Often referred to 'the happy hormone', dopamine is key to our wellbeing, and the concept of this new fashion trend is simple: wearing bright and colourful clothing can help to boost your mood and your confidence.
And at Conturve, wearing clothes that help you feel confident is what we're all about. It's why our entire shapewear collection has been expertly designed to give you sculpting support that makes you feel even more comfortable in your own skin.
But while neutral colours are amazing for shapewear, now could be the time to embrace bold, bright colours on top!
What the experts say
According to Jules Standish, author of How Not to Wear Black and Style and Colour Consultant for women who are afraid of standing out, colours can have a profound psychological effect:
"When we look at certain colours, it triggers neurological responses in the brain, and causes the hypothalamus gland to release hormones," she says. "Looking at warm, bright colours, such as red or pink, releases dopamine—known as the feel-good hormone—which can improve our mood, heighten the attention span, and even boost our sex drive."
Shakaila Forbes-Bell, a fashion psychologist and founder of Fashion is Psychology, says:
"Wearing bright colours, such as, red, yellow, pink or blue, comes with genuine psychological and physiological benefits. Red and yellow, for example, have been found to increase blood pressure, heart rate, and eye movement, causing us to feel more alert, stimulated and energetic. Blue, by comparison, produces calming bodily responses, making us feel more relaxed and serene."
Shirley O'Donoghue, who lectures on colour for the Federation of Holistic Therapists, says that harnessing the power of colour can have a strong and positive effect on your mood:
"You can even combine colours to supercharge your mindset. For a greater balance you can use complimentary colours, such as combining orange and blue, red and green, or purple and yellow."
Your colour challenge this season
Spring is in the air, and as we switch up our big jumpers for beautiful blouses, and our winter coats for lightweight jackets, it's the perfect time to embrace a more vibrant colour palate with the new season's style. We've rounded up some of Spring/Summer 2022's brightest colour trends to brighten your outfits and your mood:
Think pink
When you think pink, your mind instantly leaps to femininity and romance. But, fun fact—in the early 20th century, pink was considered a 'stronger' colour and reserved for boys and men only, until decades later when it became the stereotypically 'girly' colour.
We think that pink still brings strength whoever wears it, as well as a fun, fresh and playful feeling. The colour also represents 'celebration', so it's the perfect colour for a party dress—pair with these pretty lace panties for the prettiest shapewear support—as well as projecting feelings of kindness, so pink can help you feel compassionate towards yourself and others.
Banish the blues
Perhaps because of its connection to the sky and the sea, the colour blue is often associated with feelings of calm and comfort, so opting for a light blue hue if you're going to be in a difficult situation could help stabilise feelings of stress and anxiety.
On the other end of the blue spectrum, a bright electric blue could help you feel bold, extravagant and confident, whereas navy blue can help you feel strong and capable.
Go green
It's usually associated with envy, but there are much deeper levels to going green. Connecting you with nature, the colour green can help you to feel grounded through a sense of safety, as well as bringing feelings of optimism and hope, making green an exciting to colour to embrace if you're embarking upon a new chapter in your life.
The colour green can also symbolise fertility and good fortune—so wearing something green could be your new good luck charm.
Glow orange
Vibrant and full-on, orange oozes confidence. Put on this bold, attention-grabbing colour and feel yourself walking taller with your head held high.
The colour orange is also associated with enthusiasm and happiness, so any shade of orange or tangerine is a great choice if you're going into a social situation and want to feel extroverted. This energy-inspiring colour is also a great choice for exercising. So go neutral in your sports bra or yoga leggings, but throw on a bright orange vest or t-shirt on top for a workout boost.
Mellow with yellow
Yellow instantly makes us think of sunshine, bringing us warmth and a bright and sunny disposition—so it's no surprise that this is a colour to embrace when you need a little pick-me-up.
Wearing yellow can help you to feel positive, motivated and energetic. It might be a bit out of your usual colour comfort zone, but you don't need to go super-bright, as even a mellow yellow or a pastel shade could help boost your mood—it's hard to feel low when you're wearing yellow!
If you're looking for body-confident shapewear to make you look and feel like your best self, check out our Conturve collection today.