How to Choose the Right Shapewear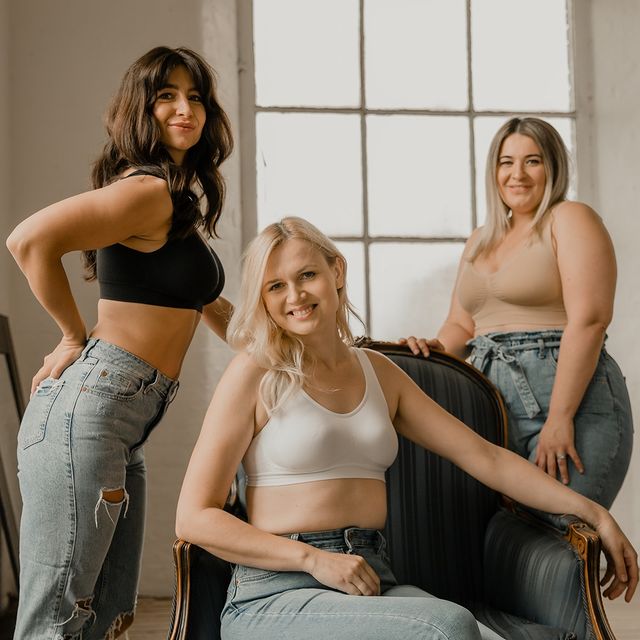 We know that a lot of women out there aren't sold on shapewear. We get it. It has a history of being uncomfortable and restrictive, not to mention a little bit body shame-y.
But we're here to cast those shapewear myths aside and give you the down-low on the true wonder of shapewear. Shapewear is no longer about hiding your figure and feeling bad about so-called "problem areas". Instead, it's about emphasising and enhancing the natural beauty of your curves so that you feel and look magnificent every time you step out of the house.
Shaping garments today are designed to make you feel more confident and empowered in your body. And, as it steers more towards this self-love and appreciation territory, shapewear is firmly rooting itself within the body positivity movement!
To help you find your new perfect body shaper match, we thought we'd create a little guide full of tips on how to choose the right shapewear. We'll show you how you can find shapewear that'll accentuate certain areas or focus on certain zones, and we'll even let you in on our fave shapewear fits for just wanting to kick back and relax!
If you're entirely new to shapewear and aren't sure where to begin, check out our Beginners guide to shapewear, where we answer all the basic questions about control garments.
What are the benefits of wearing shapewear?
Before we get into how you can find your ideal shapewear match, let's dive straight into some of the top benefits of wearing shapewear!
Shapewear is super comfortable
Modern shapewear is designed to be worn every day, and for that reason, it is very comfortable. From nights out in a slinky slip dress to chasing after the kids in your loungewear, shapewear provides an added bit of support and lift to help you on your way. And, if you're wearing the right size, your shapewear should fit like a glove.
Shapewear should feel supportive without restricting your movement, and it should shape your figure without squeezing you in. In fact, our shapewear is so comfortable; most garments can also be used as nightwear!
Shapewear can provide postpartum support
During pregnancy, your body goes through countless transitions and adjustments to make way for the growing life inside you. And the postpartum period is no different.
After birth, your uterus spends a few days shrinking back to its normal size whilst your organs start to return to their original placement before your baby took up shop and forced them to move. For this reason, the post-birth weeks and months can feel quite strange for many new mothers. But shapewear can help this process.
Wearing high-waisted shaping pants or a shaping cami can help you feel more supported and comfortable during the postpartum period. The medium compression and tummy control that shapewear provides gently lifts your torso area as it readjusts to its normal pre-baby state.
Shapewear can help improve your posture
As a society, we've become completely accustomed to hunching over a desk and burying our faces in a screen. It's an unfortunate side effect of modern-day living. With all this slumping over, it's incredibly common nowadays to have poor posture-induced back problems. But did you know you can wear shapewear to help you realign your back and firm up your posture again?
The gentle compression that many shaping garments apply to your torso can help support your back and encourage you to sit and stand up straighter. Less slouching over can help you reinforce good posture practices and can reduce strain on the back!
Shapewear can boost your body confidence
This is arguably the most important benefit of wearing shapewear! Many people mistakenly see shapewear as a mechanism to hide their fuller figure or to try and make it appear smaller, but that's not the point.
Shapewear is designed to sculpt and shape your natural curves, accentuating and flattering your body regardless of your age, shape, or size. You've already got the goods, shaping clothes are just there to emphasise them! Ultimately, you should use shapewear as a means to help you feel more confident in your body and to empower you to wear what you want when you want!
How to choose the best shapewear fit
Now we've discovered all the fab hidden benefits of shapewear, it's time we got to the main event: choosing your shapewear. Now before you pick out your new shaping garment, you want to iron out a few details.
Luckily for you, we've outlined the three steps you should take beforehand to make finding your perfect fit a doddle!
Work out your size
Firstly, you need to figure out what your correct shapewear size is. Wearing ill-fitting shaping garments can lead to all kinds of problems. Too tight, and you'll feel super uncomfortable. Too big, and you might find yourself dealing with extra fabric bunching up under your clothes.
So to make sure your fit is both comfortable and flattering, you need to know how to choose your shapewear size. Luckily for you, we've created an easy to follow size guide for all our Conturve shapewear fits. All you need is a tape measure!
Choose the right shapewear for the occasion
How you're going to style your shapewear is also a question you should ask before you pick which fit to go for. Want something to help smooth your waistline in your fancy evening dress? A nice structured pair of shaping shorts are perfect for the job.
Or perhaps you just want something comfy and supportive you can wear on the go? Well, when it comes to everyday comfy fits, a simple throw on bra is a must. You get all the bust support minus all the irritation and discomfort of a regular wired bra. How many times have you rushed home so you can tear off that bra that's painfully digging into your underarms and ribcage?
It's time to reconsider your bra choices, ladies. And whilst you are at it, check out our piece on why we're ditching wired bras!
Decide which area you want to support
Pinpointing which part of your body you want to provide with a little bit of TLC plays a significant role in which shapewear fit you choose.
Perhaps you have a tight, clingy dress that makes you feel a little tummy-conscious. Or maybe you want a bit of bum support to make you feel extra gorgeous in your skinny jeans. Whatever your desired fit, there are plenty of shapewear options.
The best shapewear for tummy and waist control is generally anything high-waisted or that gives you full torso support, such as shaping boyshorts. Or, if you're looking for the best shapewear for hips and thighs, then you should probably take a look at some shaping shorts or shaping tights. These fits are ideal for sculpting your figure from your waistline to your legs.
So there you have it. Our three simple steps for choosing the right shapewear fit for you. We hope this guide helps you find your next favourite confidence-boosting wardrobe staple! Head on over to the Conturve site to treat yourself today!