5 Simple DIY Christmas Decorating Ideas For Getting into the Festive Spirit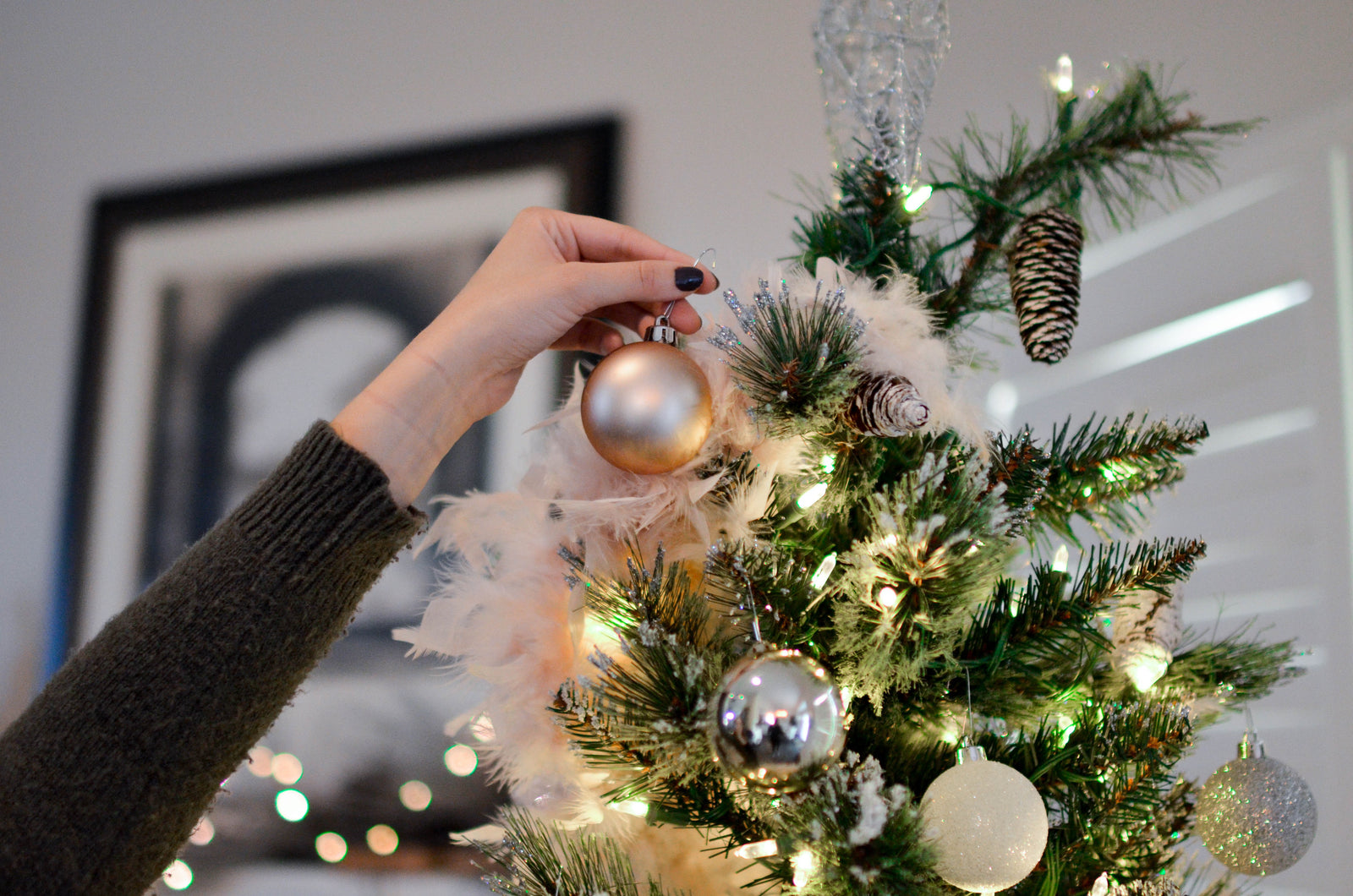 'Tis the season to deck the halls and bring out the mulled wine, so we thought we'd pile together some of our favourite ideas for DIY Christmas home decor!
This year has been tough all-round, and whilst Christmas is still shrouded with uncertainty, there is no reason why we can't make our homes feel as festive as possible. Because sprucing up your home decor with a Christmassy touch is bound to lift your spirits and get you feeling merry!
We've selected our top festive decor ideas that'll give even the most miserable of Scrooges a warm fuzzy feeling. The great thing about these little decorative hacks - aside from getting you into the festive mood - is that they don't have to break the bank.
Most of these ideas use things you can commonly find around your house, and many require little to no preparation. Perfect for all you busy mums who don't want to fork out a load of cash before Christmas.
So, let's dive in, shall we?
1. Ornamental Tree
Materials needed: Styrofoam cones, old baubles and ornaments, hot glue gun.
We've all got a huge box of Christmas decorations stored up in the loft or hiding under our bed. Many of them we've had for donkey's years and are probably past their prime. So why not repurpose them by making a bright, festive ornament tree?
Taking your hot glue, start glueing the largest ornaments to your styrofoam cone. This cone will act as your tree's foundation so try not to leave any gaps revealing the white styrofoam underneath. From here, start arranging and glueing your ornaments onto the cone until all the styrofoam is covered and you have a shiny, mini Christmas tree made from all your old decorations.
Not only will you have a quintessentially festive trinket to pop on your windowsill or mantelpiece, but you can feel good about the fact that you've not recycled your old decorations instead of letting them end up in a landfill. Good for you for being green!
2. Orange Garland
Materials needed: An oven, several Oranges, string or ribbon of your choice.
This DIY Christmas home decor trick is so easy and cheap, yet so gorgeous; you'll end up doing this every year.
Here is a step by step guide:
Take several oranges and slice them up around a ⅛ of an inch thick.
Dry them out with a tea towel or kitchen paper to remove any excess juice.
Lay out your slices on a baking tray lined with baking paper
With your oven preheated at 100°C, put your orange slices in and set a timer for 2 hours, flipping every 30 minutes.
Take the slices out as they start to brown around the edges, and the flesh is still squidgy but not moist. You may need to take your cuts out at different times.
Once your orange slices have cooled, thread string or ribbon through the top of the oranges using a needle or something sharp.
Sit back and enjoy the gorgeous orange garland you've just made!
This decorative citrus banner not only looks fantastic but it also gives off a heavenly, refreshing scent. You can add to the festive finish on your garland by including pinecones, cinnamon sticks, or mistletoe.
Plus, if you want to save some time, you can buy your sliced, dried oranges online and simply assemble the garland with string.
3) Christmas Card Wall Tree
Materials: Blue tack or other wall adhesive, Christmas cards
Do you ever wonder what to do with all those Christmas cards you get in the post? Not everybody has the surface space to display them all. So why not create a nice piece of wall art exhibiting all your festive greetings cards?
This process could not be more simple! All you need to do is stick your Christmas cards to a space on the wall using some blu tack or a similar adhesive in the form of a Christmas tree.
You'll be stunned how something so straightforward, quick, and easy can make such a significant difference in making your home feel a hundred times more festive. Plus, all those friends and family members sending out lovely cards over the Christmas period will be thrilled to know you've created something artistic with them.
4) Homemade Christmas Stockings
Materials: Old PJs, needle and thread.
I bet you have some old pyjamas that you no longer wear hidden in the back of a drawer, don't you? We all do. So keep them from taking up unnecessary storage space and turn your old PJs into homemade stockings for you and your family members.
Even for total beginners, sewing a stocking is pretty simple. All you have to do is draw the outline of a large sock on a folded piece of fabric and then cut out two identical pieces of fabric in that shape.
From here, you can get to work sewing these two fabric items together, leaving the top "entry" of the stocking open. This way, you can put little gifts and treats inside your DIY stockings. A perfect example of cute yet practical Christmas home decor!
5) Salt Dough Ornaments
Materials: All-purpose flour, salt, water, string or ribbon.
Salt dough is a classic cheap and cheerful material for making DIY ornaments. And, I can guarantee you already have everything you need to make it right in your cupboards!
This is how you make salt dough ornaments:
Mix 4 cups of all-purpose flour, 1 cup of salt, and 1 ½ cups of lukewarm water together in a large mixing bowl.
Knead the mixture until the dough is firm and smooth.
Roll out the dough and cut desired shapes out - you can use cookie cutters or get imaginative with a knife!
Once you've made your shapes, use a straw to create a hole for the thread to go through.
Bake your shaped dough ornaments in the oven at 150°C for roughly 1 hour (check on them occasionally).
Once cooled, thread your string or ribbon through the hole in your ornaments and tie a loop.
Hang these on the tree or simply around your home for a festive touch!
The best thing about this DIY decor hack is that it's so easy, you can get the little ones involved. Not only will they spend an hour or so getting stuck into something fun and creative, but you'll also be left with sweet little trinkets for years to come.
This year has been a tough one for everyone. So spending more time getting creative with your ornaments whilst getting the whole family involved in the process definitely feels like the right way to get into the festive mood. Plus, it never hurts to save your pennies with some DIY Christmas decorations in the run-up to the holiday season!
We hope you enjoy all of these cute ideas, and don't forget to tag us in any pictures of your Christmas home decor at @conturvewear!
And, if you're interested in our other blogs or maybe want to treat yourself to some stunning shapewear fits to pop under your favourite Christmas dress, head on over to our site now!