5 delicious salad recipes you'll want to make this summer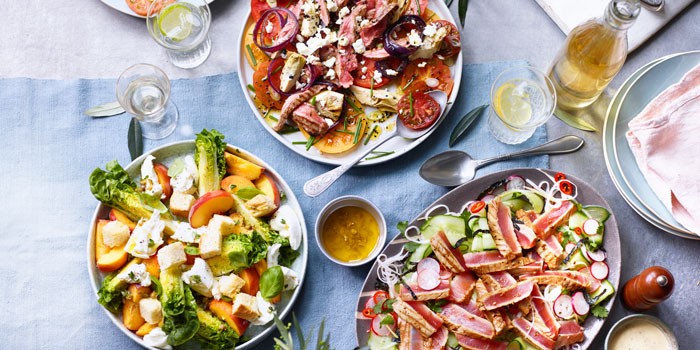 Summer is around the corner, and with the warmer weather often comes the craving to tuck into lighter meals and seasonal salads.
And while salads once had a bit of a sad reputation, thought of as boring, tasteless meal replacements in a calorie-counting diet culture—and we are not about that at Conturve—today's salads are all about big portions and big flavour, that not only taste delicious but are packed with essential vitamins and nutrients to support your health and well-being. And we certainly can get behind that.
And if there are some beauty benefits too? Well, we'll take that! A diet packed with fruit and vegetables can help strengthen your immune system, increase your energy levels, support better sleep, reduce bloating, and give you a glowing complexion. We've rounded up our five of the best salad recipes you'll want to make this summer.
1. Bright beetroot, citrus and goats' cheese salad
olivemagazine.com
This is an absolute showstopper of a salad, with fuchsia pink beetroot vying to steal the attention from bright citrus segments, and the sharp flavours of the fruit rounded out with creamy goats' cheese. It's packed with Vitamin C, which is great for boosting your immune system and helping to give you a healthy glow, and the addition of nuts is a great source of protein. Whether you tuck into this on its own or serve it as a side dish, this is one of the best summer salad recipes for impressing your guests.
INGREDIENTS
6 beetroots
2 oranges and 1 grapefruit
4 tbsp cider vinegar
2 tbsp caster sugar
1 pouch ready-cooked quinoa
2 Little Gem lettuces
100g brussels sprouts
50g chopped cashew nuts
50g mixed seeds
1 tbsp soy sauce
2 tbsp runny honey
Small bunch dill
200g goat's cheese
DRESSING
Juice of 1 orange and 1/2 a grapefruit
1 tbsp wholegrain mustard
1 tbsp runny honey
100ml olive oil
METHOD:
Thinly slice the beetroot, peel and segment the oranges and grapefruit, and add it all to a bowl with the cider vinegar, sugar, salt and pepper, and mix well.
In another bowl, break up the quinoa and add a little olive oil and seasoning. Shred the lettuce and sprouts, add to the bowl and stir.
In a small pan, toast the chopped nuts and seeds, before adding the soy sauce, honey, a dash of oil, and let them simmer for a couple of minutes.
Assemble everything on a pretty platter, top with the goats' cheese, garnish with the dill, and pour over the dressing. Enjoy!
2. Aubergine and tomato salad, with feta cream and oregano
 theguardian.com
This indulgent Middle Eastern-inspired salad gives you a delicious duo of gorgeously garlicky vegetables, offset with tangy, creamy feta cheese. It's a hearty salad that's guaranteed to fill you up, and aubergine is great for you, too—the deep purple skin has lots of antioxidant properties, and can help to lower cholesterol, as well as being super-rich in fibre, which can support a healthy gut.
INGREDIENTS
2 aubergines
250g cherry tomatoes
2 garlic cloves
1 tsp honey
1 tbsp chopped parsley
80ml olive oil
Salt and pepper
1 1/2 tbsp oregano
FETA CREAM
200g feta
75ml whole milk
1 tbsp lemon juice

METHOD:
Cut the aubergines into pieces, coat in olive oil, garlic, salt and pepper, and roast in the oven for 30 minutes at 220C in a fan oven.
Coat the tomatoes in olive oil, honey and oregano, and bake for around 12 minutes.
To make the feta cream, blitz the feta, milk and lemon juice in a food processor.
Spoon the feta cream onto a platter, place the tomatoes and aubergine on top, scatter with the chopped parsley, and serve.
3. Tropical watermelon and halloumi salad
huntingforgeorge.com
Does any ingredient say 'summer' more than watermelon?! Refreshing in taste and vibrant in colour, this exotic salad is a summer dream. Watermelon supports hydration, and also contains beta-carotene, which our bodies convert into Vitamin A, which help to keep our eyes and skin healthy, so this watermelon and halloumi salad can help give you that holiday glow.
INGREDIENTS
2 shallots
Handful red chicory leaves
50g toasted pine nuts
250g halloumi
1/4 watermelon
DRESSING
1 red chilli
1/2 bunch coriander
1/2 bunch mint
1 lemon
50ml olive oil
2 tbsp sumac
METHOD:
First make the dressing. In a mixing bowl, add the olive oil, the juice of a lemon, a chopped red chilli, half the sumac, the chopped herbs, and season with salt and pepper.
Add the shallots and chicory, toss well in the dressing, and arrange the salad on a platter.
In a heavy-based frying pan, fry the halloumi well on each side.
Once cooked, mix the halloumi with the toasted pine nuts and chopped watermelon, and serve on top of the salad—sprinkled with the remaining sumac and a drizzle of olive oil.
4. Herby hot smoked salmon potato salad
 jamieoliver.com
This potato salad is a world away from the token mayonnaise-laden salad gesture you often get at a BBQ! Giving the classic a contemporary and sophisticated twist, this potato salad sings with fresh herbs and hot smoked salmon.
And salmon is a fantastic source of omega-3, which has countless health benefits, such as supporting a healthy heart, lowering blood pressure, and encouraging healthy skin, hair and nails.
INGREDIENTS
800g potatoes
200ml natural yoghurt
1 lemon
Extra virgin olive oil
1/2 cucumber
1/2 bunch fennel tops
1/2 bunch fresh basil
400g hot smoked salmon
METHOD:
Bring a pan of salted water to the boil, add the chopped potatoes, and simmer for 15 minutes—or until the potatoes are soft.
Slice the cucumber in half and deseed it with a teaspoon, chop into 'half-moons', and finely chop the fennel and basil.
In a large bowl mix the yogurt, herbs, cucumber, the zest of a lemon, and stir in the potatoes.
Serve on a platter, tear the hot smoked salmon over the top, and finish with a generous squeeze of lemon juice.
5. Juicy peach, Serrano ham and burrata salad
Burrata is having a moment, and this luxurious summer salad unites it with sweet peaches and salty Serrano ham. Not only are they delicious, but peaches also offer up a range of antioxidants, B vitamins and magnesium, which can help support your energy levels and sleep cycle. Serve this dish when you want to ooze elegance.
INGREDIENTS
2 ripe peaches, halved and stoned
2 handfuls rocket
6 slices Serrano ham
1 ball burrata
Small bunch basil
2 tbsp of toasted pine nuts
Olive oil
DRESSING
3 tbsp olive oil
2 tbsp white balsamic vinegar
1 tsp runny honey
1 red chilli, finely chopped
1/2 a garlic clove
METHOD:
Whisk together the olive oil, vinegar and honey in a bowl, then add the garlic and chilli.
Brush the halved peaches with olive oil and char in a griddle pan on a high heat.
Scatter the rocket on a platter, drape over the Serrano ham, add the peaches, and sit the burrata in the middle.
Remove the garlic clove and then spoon the dressing over it all, scattering the salad with the pine nuts and basil. Voila!
If you're looking for sculpting shapewear to make you feel fabulous this summer, browse the full Conturve collection today.