A guide to choosing the best shapewear for your body type!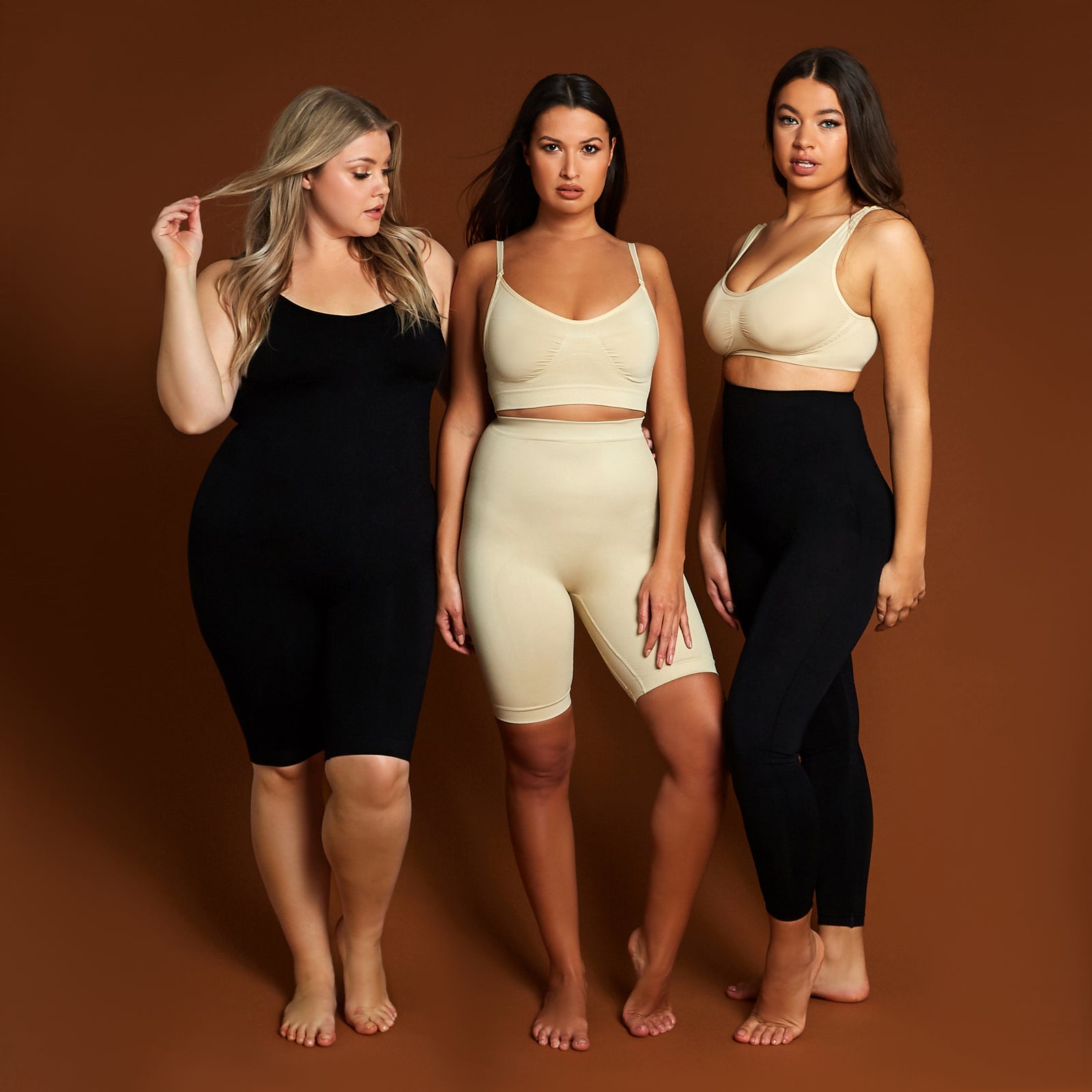 Shapewear has gotten a bad reputation lately for all the wrong reasons and we wanted to write this guide to help allay any fears that you may have. Some people in the media and online have compared shapewear to medieval torture device that squeeze your internal organs all in the name of beauty, this couldn't be further from the truth!
Then there is the worry of having to constantly and inconspicuously adjust adjust areas that are rolling down or up on your body. If you have experienced and of the above or just had a bad experience with shapewear then the likelihood is that it didn't do its job properly, which is to make you feel comfortable and in control. 
What is you knew that the squeezing, rolling, sliding or spilling over the top discomfort you experienced is because the shapewear you wore was either the wrong size or it was the wrong style for your body type, both of which can easily be fixed.
No two bodies are the same which is the same as shapewear, not every piece of shapewear is the same and are designed to target different areas of the body. This shapewear guide will help you find the perfect match for your body type which will help you feel comfortable and confident in your own body.
1) What kind of control do you need? First of all you need to know what kind of control or compression you need, knowing this will help a lot when selecting shapewear. There are various levels of compression you can choose from which are as follows: 
Light Compression/Control - Do you have some areas that bulge that you want to smooth out so that you can wear clothes more comfortably. Shapewear with light compression will help to smooth out areas that need extra control and are comfortable enough to be worn all day or night. 
Medium Compression/Control - Are you looking to contour your curves? Medium control shapewear is made with stretchy fabric that will move and flex with your body as well as adding delicate contours to your shape. You should be able to wear medium compression shapewear for extended hours without feeling like you have been squeezed to death. 
High Compression/Control - Do you have a special occasion coming up that you want to look amazing for? High compression control shapewear pieces are perfect for formal clothing like wedding dresses, prom gowns, evening dresses or cocktail dresses. The aim is to feel toned and study without feeling constricted.
Be aware, that no matter how firm the control of your shapewear is, you should never feel like a stuffed sausage. If your breathing or movement is constricted then you need to wear a size that is a size or two bigger than your normal size. 
2) What area do you want to target? Not everyone is looking for a tiny waist or big booty to be happy. Ask yourself what areas of your body do you want to target that are sources of concern for you?
Full Body Some of us have more than one area that we want to target and control. If you want an all-over sleeker physique then you need to pick a full body piece like a bodysuit. Try to pick a piece that has an opening so that you can use the bathroom.
Torso Make bra bulges and muffin tops a thing of the past! If you are self conscious about extra weight on your tummy area, waist or back then you can boost your confidence with a shaping cami top. 
Bottom Do you need to shape your big bum or do you have a flat bum that needs a little lift? Choose from smoothing panties to butt-lifting shorts which targets your thighs, legs and rear. 
3) How do you choose the best shapewear pieces for your body? Picking the right shapewear for your body will depend on your body shape which will be classed as one of the following: 
Apple Shape 

Rectangle Shape

Hourglass Shape

Pear Shape

Strawberry Shape 
Apple Body Shape If you have a large enough bust and a fuller midsection with shoulder and hips that are narrow then you have what is called an apple body shape. This means that you tend to have a little bit of extra weight in your tummy area. If your belly makes it difficult for you to find clothes that fit you right or if it keeps you from achieving your desired shape or feeling confident then below are shapewear styles that will give you your midsection more definition:
High-Waisted Shaping Panty
The high-waisted shaping panty can be worn all day and will help to gently shape and smooth out your tummy area and allow you to slip into that favourite dress with confidence. 
High-Waisted Seamless Leggings 
The high-waisted seamless leggings are designed to be worn on their own or to be paired with your favorite top or sweatshirt. These leggings are seamless and provide a medium/high compression that will shape your thighs and legs while also helping to lift your butt. They will also give you a 360-degree medium to high level of control to your tummy, waist and back while also giving you a more lengthened look to your figure.
Rectangle Body Shape If you have a small bust with a straight torso, narrow hips and long legs then you have what is known as a rectangle shape. The majority of clothes are designed to fit this body shape but many women with this body shape sometimes want a more contoured shape and a fuller looking rear end. If you are one of these women then the below shapewear style will help you with a curvier look:
High-Waisted Shaper Shorts
The high-waisted shaper shorts have built in butt pockets that are designed to lift and shape your butt as well as giving you tummy back and thigh control. These shorts can be worn under tight jeans, short skirts or your favorite dresses 
Hourglass Body Shape If you have hips and shoulders that are the same width with a naturally contoured waist then you gave a very desirable hourglass shape! Although you may have the shape that many women use shapewear to mimic you might still have some bulges that you want to control. Here are some pieces to help you smooth out your target area:
Waist Trainer 
This waist trainer is made from seamless material which is specially designed to help to shape your waist into an hourglass shape as well as helping to smooth out any bulges in your tummy area. Made from material that will not cling to your clothes, you will be able to wear any dress you want as well as your own bra and panties. 
Shaping Cami Top
With the shaping cami top you can say "goodbye" to your back bulges with this body-smoothing cami top that you can wear as a tank underneath a shirt or blazer. This cami has just the right amount of compression to help smooth but not flatten your bust. Made from seamless material that prevents your skin from chafing and has a low cut that will give you a flattering neckline. 
Pear Body Shape If you have a small bust with slim shoulders, a well-defined waist, full hips and thighs as well as a round bottom then you have what's called a pear body type:
Below are shapewear pieces that will fit a pear shaped body type: 
High Waisted Shaper Shorts - This shapewear helps by controlling your waist, back, tummy and hips as well as helping to sculpt your butt. Made for seamless material this shapewear is comfortable enough to be worn all day and will not show through your clothes. 
Seamless Shaping Leggings - These leggings will help to shape your hips, flatten your tummy and sculpt your thighs. They can be worn with a sweatshirt or jumper, by themselves or underneath jeans. Made from high quality seamless material, these leggings are a must have in any woman's wardrobe. 
Strawberry Body Shape 
If you have wide shoulders, a generously shaped bust, narrow hips and a small backside then you have a strawberry shaped body type. Your shapely upper body is an eye catcher but having all your attention up top can have its over issues.
If your feeling top heavy and need a solution then the below shapewear will help: 
Braless Shaping Bodysuit - This shapewear will help to tame your bust without causing the dreaded uniboob and can be worn with your own bra for extra support. Great for helping to shape your back and upper core area. 
Shaping Bodysuit - Is your tummy area in need for some control? If so, this shapewear piece with give you extra support in the bust area while also giving your back, waist and tummy extra control.
No matter what your body shape is, just remember that women's bodies have many different shapes and sizes and are beautiful no matter what.  
Shapewear is designed to support you and contour your body's shape not alter it!